Spotify has officially crossed 200 million premium subscribers
1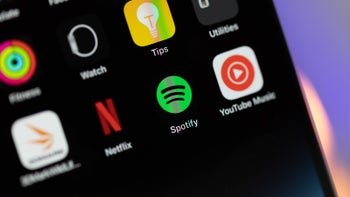 The recently concluded holiday shopping season may not have been as auspicious for the
global smartphone market
as we've come to expect over the years, but for some reason, the music streaming industry doesn't appear to be suffering any consequences of a tough economic climate around the world.
Not yet, at least, and not as far as said industry's heavyweight champion is concerned, with some of Spotify's key success indicators actually surging higher than originally anticipated
during the final quarter of 2022
compared to both the same period of 2021 and last year's third calendar quarter.
There are now 205 million people worldwide paying for Spotify's "Premium" service tier, up no less than 10 million from Q3 2022 and a cool 25 million versus Q4 2021. How does the new milestone compare to the competition? Unfortunately, there's no way to know... for sure.
That's because Apple effectively stopped making those kinds of figures public back in 2019, when around 60 million people were subscribed to the company's paid Music platform. Of course, many unofficial guesses and estimates followed, with one from 2021 boosting that number to 78 million and one from last year circling 88 million.
What's crystal clear is that Apple Music still has a loooooong way to go before
hoping
to catch up to Spotify's usage digits, which also include 295 million ad-supported monthly active users (up from 273 million in Q3 2022) and a grand total of 489 (!!!) million Q4 2022 MAUs, representing a massive increase from 456 million the previous quarter and 406 million in Q4 2021.
It's equally true that Apple is very clearly prioritizing the profitability of its "Services" division as a whole over the subscriber growth of each individual platform, while Spotify continues to bleed money as it brings in more and more listeners.
We're talking a €231 million ($250 million) operating loss for the Sweden-based company behind the world's most popular audio streaming product between October and December 2022 alone, and although things like "higher personnel costs" and "higher advertising costs" are blamed for this latest financial deficit, the truth is Spotify last posted a quarterly profit all the way back in 2019.
Looking ahead to the near future, Spotify doesn't expect its financials to bounce back all of a sudden despite predicting another boost to 207 million premium subscribers and, yes, half a billion total monthly active users. Now that's a number for the ages!