Finney, the first blockchain smartphone, features flagship specs and price
8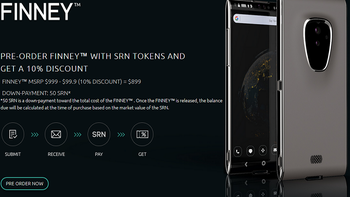 Back in March, we told you about
Finney, Sirin Labs' blockchain phone
. Developed for cryptocurrency Bitcoin, blockchain is an anonymous peer-to-peer network that all members of said network can see. Any change to the blockchain must be approved by those in the network. It is said to be immune to hacking, and thus provides a safer backdrop for keeping track of financial transactions.
Sirin Labs has just released updated specs for the Finney smartphone, which will be the first connected handset to support blockchain. The device will carry a 6-inch screen with an aspect ratio of 18:9 and a 1080 x 2160 FHD+ resolution. Under the hood is the Snapdragon 845 mobile platform with an octa-core CPU and the Adreno 630 GPU. 6GB of RAM is inside along with 128GB of native storage. On back is a 12MP camera with an aperture of f/1.8, and an 8MP selfie snapper is found in front. An "ultra-secure" fingerprint sensor is onboard, and the device supports Bluetooth 5.0 and NFC. Keeping the lights on is a rather light 3000mAh battery that charges to 50% in 30 minutes, and Android 8.1 is pre-installed. The IP52 certification rating means that there is limited protection from vertically falling water, like rain. The back of the device features Gorilla Glass
The Finney is equipped with a cold storage cryptocurrency wallet that is not connected to the internet. This prevents hackers from gaining access to any Bitcoins or other cryptocurrencies stored in the wallet.
"Our team has been working vigorously to make sure that the first blockchain smartphone is cutting edge in all technical aspects. Our collaboration with FIH (Foxconn International Holdings) ensures that we will be offering state-of-the-art design with device architecture that will enable true security and user-friendly blockchain experience."-Zvika Landau, Co-CEO, Sirin Labs
Sirin Labs previously stated that it had 25,000 pre-orders for the device, which carries a MSRP of $999. The Finney will be launched later this year and if interested in reserving one, click on the sourcelink. Those pre-ordering the phone using the company's Sirin Labs Tokens (SRN) get a $100 (10%) discount. Only 50 SRN Tokens, currently valued at $25.03 USD, are needed to reserve a Finney handset. Once the phone is released, the balance due will depend on the market value of the tokens at the time. Considering that the SRN Token is down 7% today, you might end up with an even bigger discount if you pay for the phone with them.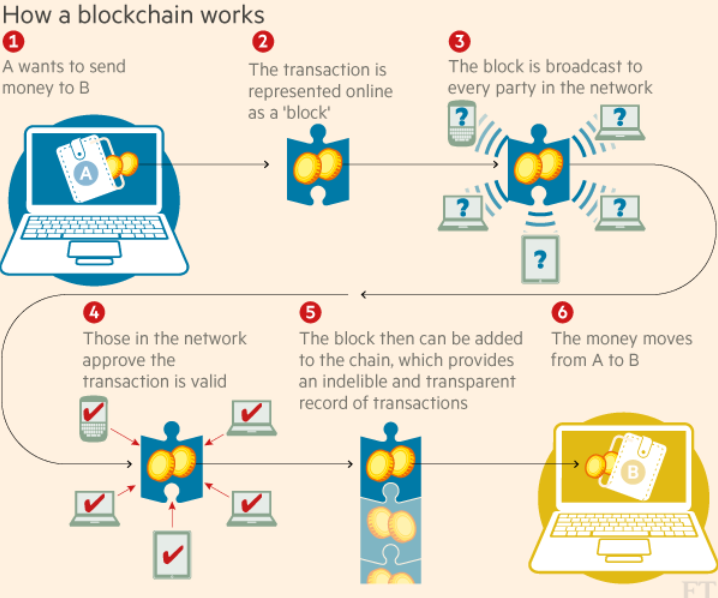 Blockchain 101, image courtesy of the Financial Times
source:
SirinLabs