Virtual assistants and smart speakers quickly becoming part of everyday life
1
Most people still consider voice assistants a novelty, but with the rise of smart speakers that gave them a body beyond our smartphones, things are starting to change. Adobe conducted a survey in which it asked more than 1,000 consumers throughout the United States about their voice assistant related habits. The results show that the digital servants are quickly finding their way to people's homes.
According to the survey, almost a third of the participants have a smart speaker in their home. Ownership rose 5% since the beginning of the year, but it's expected to jump even higher once the holiday season comes along. By the end of 2018 smart speakers are expected to be in 48% of households in the US. A somewhat surprising statistic is that 45% of current owners are planning to buy another smart speaker for themselves, while 23% said they'll get one for someone else.
So, what exactly are people using them for? Well, nothing shocking here, currently the most common uses are the simplest ones: 70% use their voice assistants to listen to music, 64% ask for the weather forecast and around half of people mostly use them for alarms, news and online searches. A good percentage of the users put their assistants' skills to the test by asking them to do more advanced tasks. Almost a third of the participants said they use them for shopping, controlling smart home devices and making phone calls, while a quarter trust them to send messages. Some take it a step further, 13% of users said they get help from their virtual assistant with managing their finances.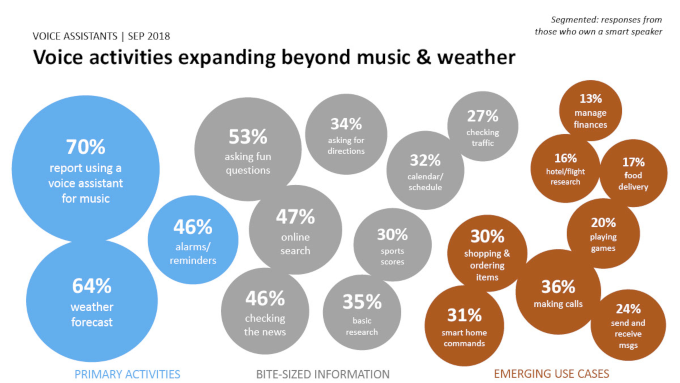 Playing games with your smart speaker is apparently also a thing
Another interesting conclusion, which can be made from this survey, is that the smart speaker serves as an ice breaker between humans and voice-controlled assistants. 72% of the owners of dedicated assistant devices are comfortable talking to a machine in front of others, while only 29% of non-owners feel the same. This goes beyond just smart speakers, their owners also talk more frequently to the assistants in other devices, 3 times more when using a smartphone and 13 times more often when they want something done by the virtual helper in their wearable device.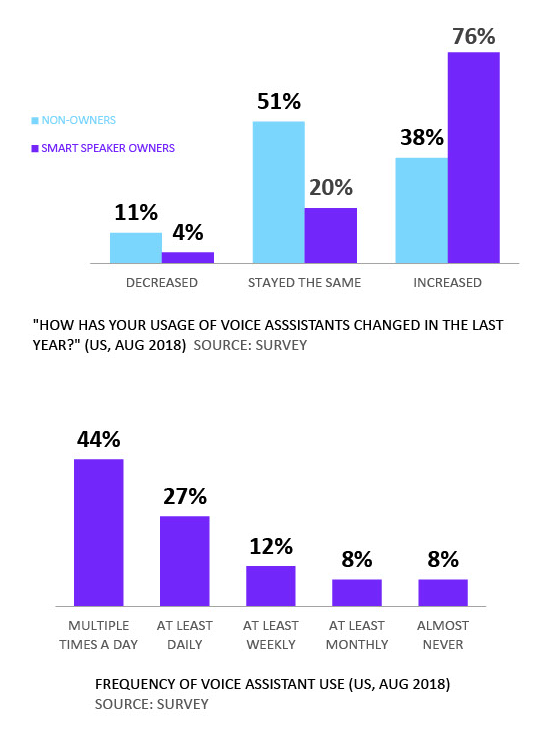 Smart speakers appear to be the gateway to virtual assistant use
It seems that voice assistants aren't just the latest fad in tech but are here to stay and serve an increasingly more important role in our lives, as long as we let them. What's the best use you've found for the virtual assistant in your device?