Samsung Galaxy Tab S5e with LTE scores $100 discount shortly after launching at Verizon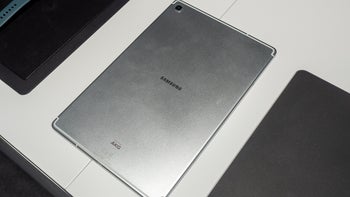 Well, that didn't take long. Verizon only
started selling the Galaxy Tab S5e last week
, and the relatively inexpensive LTE-enabled slate is already available at a lower than "usual" price. Instead of paying $479.99, or $20 a month for two years, you can now cough up as little as $379.99 overall, whether you're thinking of dealing directly with the nation's largest wireless service provider or the manufacturer of this
incredibly thin 10.5-incher
.
You'll obviously need to agree to a 24-month device payment plan at either Big Red or Samsung to score the $100 discount, which means you won't have to spend a dime upfront and your monthly installments will be reduced from 20 bucks to just $15.83. Verizon lets you save an even heftier $200 on the upper mid-range Android tablet, but in order to do that, you'll need to purchase the Samsung Galaxy Tab S5e in combination with an Android smartphone of your choice, both of which will require two-year installment plans.
Powered by a more than respectable Snapdragon 670 processor, the Android 9.0 slate looks like a pretty incredible bargain at $379.99 (not to mention $279.99) when also considering the 4G LTE connectivity provided by Verizon, as well as other decent specs including 64 gigs of internal storage space and 4GB RAM. Granted, this thing is not as new, fancy, or powerful as the
Galaxy Tab S6
, having technically seen
daylight back in April
in a Wi-Fi-only variant, but its value proposition is almost impossible to beat.
Despite sporting a phenomenally slender 5.5mm profile and tipping the scales at a measly 400 grams, the Galaxy Tab S5e packs a sizable 7,040mAh battery while blending glass and aluminum for an exceptionally premium construction. All in all, it's hard to find anything to complain about at this freshly marked-down price.