You can save 'over $300' right now with free 'starter kits' for the Galaxy Note 9, S9, and S9+
2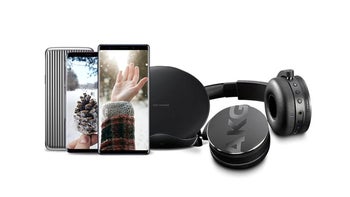 If you waited to see what all of Samsung's rivals had in store for the holidays in the crowded high-end smartphone arena, but still think the
Galaxy Note 9
is the best new handset for you, now might be the time to pull the trigger.
While Black Friday is not for another couple of weeks, the Note 9, Galaxy S9, and S9+ are sold today by Samsung alongside some sweet and very valuable gifts. We're not talking a modest
Gear 360 or Gear VR
anymore, but a massive "Starter Kit" containing quite a few hot items.

According to Samsung, you can save "over $300" with "the gift of Galaxy" in time for Christmas, although we're not entirely sure about the exact combined value of all these cool accessories.

That's mostly because the fine print of the deal on the handset manufacturer's official US website stipulates one of the freebies is a pair of AKG Wireless Bluetooth Noise canceling headphones, which sounds a lot like the $300 N60 model. Then again, a promotional image appears to depict the Galaxy Note 9, S9, and S9+ next to a humbler AKG Y50BT Bluetooth product without noise canceling functionality. The latter typically costs $180, although right now, it's listed at a discounted price of only $50 on Samsung.com.

Either way, you clearly stand to save plenty of money by buying any of the three aforementioned powerhouses until November 17. In addition to the mysterious AKG freebie, you'll also receive a $70 fast charge wireless charging stand, $40 rugged protective cover, and $23 DeX cable at no additional cost whatsoever.
Just keep in mind the
Galaxy Note 9
still starts at a whopping $1,000 outright, with the
Galaxy S9
priced at $720 and up, while the most affordable
S9+
configuration will set you back $840. Of course, you can always get the three phones with monthly installment plans and full eligibility for Samsung's latest killer bundle deal.