Galaxy Note 9's camera will be one of its best features
22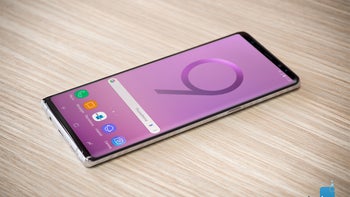 Samsung is expected to unveil the
Galaxy Note 9
a bit earlier this year -- on August 9, according to
recent reports
. That is two weeks earlier than the date when the Samsung
Galaxy Note 8
was introduced last year and means that the Note 9 could be on store shelves by the end of August. Seems like Samsung is in a bit of a hurry this time around, considering that the phone may have been slated for an even earlier reveal, had its development not been prolonged by two weeks due to a
design change
.
We've already seen alleged screen protectors for the Note 9, hinting at a largely unchanged design from last year's model, save for the reduced top and bottom bezels. This comes as no surprise, as the Note 9 was expected to be an iterative upgrade over the Note 8, a transitional device of sorts, before we arrive at the S10 and Note 10 next year, which will likely have in-display fingerprint scanners and fully bezel-less designs. One notable improvement over the Note 8, however, will come in the form of a "revamped camera on the Note 9", anonymous inside sources cited by
Bloomberg
claim.
The Note 8 had a stellar dual-camera that combined a regular, wide-angle shooter with a 'telephoto' lens for 2x optical magnification. The Galaxy Note 9 will likely retain this setup, though with some added bells and whistles. We cannot say with absolute certainty what these improvements will be, but we can make a well-educated guess, based on Samsung's handling of the S9 and S9+.
This is what the back of the Galaxy Note 9 could look like, based on what Samsung did with the Galaxy S9 and S9+ earlier this year
Since the company took to heart the wide-spread criticism about the placement of the fingerprint reader on the S8 models last year, relocating them under the vertically reoriented cameras of the S9 and S9+, it's a relatively safe bet that the Note 9 will receive the same treatment. The heart rate sensor will either be situated to the side of the camera module, like it was on the S9 models, or between the fingerprint scanner and the lenses.
As for the cameras themselves, Samsung is likely to keep the wide-angle + telephoto lens combination, though we'd be surprised if the variable aperture from the Galaxy S9 didn't make a return on the Note 9. Furthermore, since the Note 9 will be powered by the Snapdragon 845/Exynos 9810, it will definitely be capable of super slow-mo video recording, where the variable aperture is necessary for recording in dimly-lit environments. So, we'd say that the Samsung Galaxy Note 9 is very likely to sport a variable aperture in
at least
its main, wide-angle camera. On the software front, expect Portrait Mode to return make a return from the Note 8, in addition to the aforementioned slow-mo video recording modes that debuted on the Galaxy S9 and S9+.
On a side note, Bibxy Vision may see deeper integration into the stock camera app of the Note 9. The company has been working toward making the Bixby experience more seamless and intuitive, and seeing how the Vision component evolved between the S8 and S9, we wouldn't be the least bit surprised if it was given another push in the right direction on the Note 9.
ALSO READ: