Samsung Galaxy Note 10 may go back to a more curved display and have a centered selfie camera
23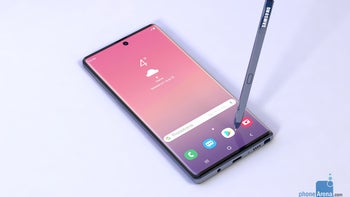 Ever since the debut of the Galaxy Note Edge, curved displays have been a trademark of Samsung flagship phones. And although in recent years the company seemed to be moving away from the extreme slanted edges of the aforementioned model and some of its successors, the upcoming
Galaxy Note 10
may actually draw inspiration from Samsung's older designs.
The Samsung
Galaxy Note 9
and
Galaxy S10
and S10+ have very subtly curved displays that serve mostly to accentuate the extremely thin side bezels and as an excuse for the Edge Screen to exist. With the initial "wow" factor of the curved design gone, it made sense for Samsung to dial back the exaggerated contours in favor of a more restrained look.
All that said, according to resourceful leakster @UniverseIce, the Samsung Galaxy Note 10 may flaunt a "more aggressively curved display than the Note 7." The unfortunate Galaxy Note 7 didn't have an extremely curved screen, at least when compared to some older designs, so it would be interesting to see what the Samsung does with the Note 10. If the company is going back to displays with more pronounced curved edges, we're hoping that it does so with a clear idea of how to enrich the user experience. When the Galaxy Note Edge launched, its slanted screen was certainly new and different from anything else on the market, but the company itself later proved that the functional aspects of the Edge display can be successfully replicated on more subtly curved designs.
Whether you like curved display or not, it's still the flagship phone logo, especially in the second half of the year, you'll see a very superb curved design, a more aggressive curved display than Note7 will appear, and more than one brand will do so.

— Ice universe (@UniverseIce) 30 април 2019 г.
Another interesting remark that Ice Universe makes is that "more than one brand" will follow Samsung's example and launch a device with a "more aggressively curved display." This trend didn't really take off in the past, but if the Note 10 does, indeed, do something very creative or convenient (or both) with this rumored design, then more companies may follow suit. We've been hearing rumors the OnePlus 7 may have a curved screen, though they are conflicting.
Centered hole-punch selfie camera on the Galaxy Note 10
Earlier this year, we envisioned
what the Samsung Galaxy Note 10 may look
like, based on rumors and preliminary information. We suggested that the Note 10 might have a hole-punch selfie camera, akin to that of the
Galaxy S10+
. However,
Ice Universe later told us
that he expects the Note 10 to have a smaller camera opening than the Galaxy S10. He didn't specify whether that means a single front-facing camera or just a smaller opening for the two lenses.
Last month, Ice Universe tweeted:
"Da Vinci is symmetrical."
This may seem cryptic at first, but since the Galaxy Note 10 is codenamed Da Vinci, this could be a hint that the phone's front-facing camera may be centered, rather than offset like on the Galaxy S10. Many people wanted the S10 models to have centered selfie-cameras—if only for symmetry's sake—and this may actually happen with the Note 10.
What do you make of all this? Do you miss the more rounded screen edges that some Samsung phones had in the past, or are you just fine with the more subtle designs of the past couple of generations? What about the screen camera punch-hole? Centered or offset to the right? Yes, we know, you'd rather it disappeared for good, but that's not happening this year, apparently. Tell us what you think in the comments below!