Nothing's Ear 1 wireless earbuds will be announced next month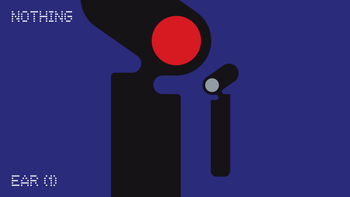 OnePlus
co-founder Carl Pei left the company in October to create a new startup called Nothing. The first product to come from the venture will be a pair of
true wireless earbuds
, and now some additional details have been revealed.
Nothing's Ear 1 earbuds are coming in June
The consumer tech brand has confirmed that its first pair of wireless earbuds will be announced in June and marketed under the name Nothing 'Ear 1.' The company is keeping quiet about the price and release date for now.
In terms of design, the illustration above acts as an official teaser. Nothing seems to be sticking to an AirPods-like shape with a long stem that likely houses the battery and small ear tips. Previously, Nothing confirmed that its first product is being designed in collaboration with Teenage Engineering.
There's a good chance the Ear 1 earbuds will incorporate some transparent materials. To quote Carl Pei himself, "Ear 1 combines notes of transparency, iconic form, and refined functionality."
The company lead has reiterated that Nothing's first product — Ear 1 — is the first step in creating an entire ecosystem of smart devices that connect with each other. Additional product launches are expected later in the year.
It'll remain to be seen how successful Nothing's Ear 1 can be. The true wireless earbuds market is growing fast each year, but Ear 1 will face
tough competition from AirPods
, Galaxy Buds, and many other mainstream competitors.