California once again is close to making net neutrality a state law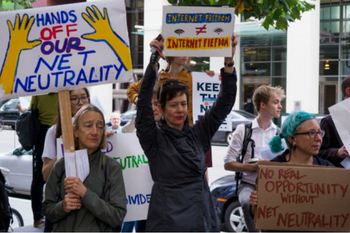 For a set of rules left on the side of the road to die by FCC chairman Ajit Pai, net neutrality is making an impressive rally attempt. Just the other day, we told you that the attorneys general of 22 states and the District of Columbia had
filed a suit with a U.S. appeals court seeking to overturn the FCC's repeal of net neutrality
. While the issue will be heard in the courts, several states including California and New York are trying to have it passed into law. Most Americans are in favor of net neutrality.
A bill in California, SB822, was ready in June to be the first in the country to make net neutrality law. It passed the state senate and was expected to have no problem in the Democratic controlled State Assembly. From there, it would receive Governor Jerry Brown's signature. However,
an assemblyman named Miguel Santiago watered down the bill, preventing it from passing
. Santiago, a Democrat, had his campaign partly financed with contributions from AT&T. Most wireless carriers and ISPs are against the idea of all streaming content being treated the same. Net neutrality prevents wireless providers and ISPs from charging content providers to access a "faster lane." It also blocks firms like AT&T from banning or throttling media streams just because they don't agree with the content being disseminated.
But SB822 is alive and well as was just passed by the State Assembly's Communications and Conveyance Committee by a 9-3 vote (all those in favor of the bill were Democrats) and now heads back to the entire State Assembly.
An agreement between SB822 author State Sen. Scott Wiener and assemblyman Santiago
should lead the way to passage of the bill. Once Governor Brown signs on the dotted line, the Obama-era rules will be codified as law in California. SB822 actually is a little stricter than the original version of net neutrality because it blocks content providers from paying carriers and ISPs to offer their streaming content to subscribers with a zero-rating.