Star Wars director says Apple doesn't allow bad guys to use iPhones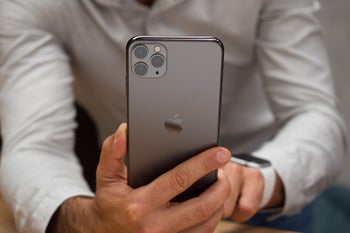 Apple is one of the most valuable brands in the world and that's the result not only of successful products but decades of carefully planned marketing strategy. One way Apple likes to slip into people's attention is through movies and TV shows.
The company is known for giving Apple products for studios to use in their productions but it turns out, they come with some interesting conditions attached.
One of which we just learned about from director Rian Johnson. You might know him from
Star Wars Episode VIII: The Last Jedi
, but of course, there are no iPhones in the Star Wars universe. There are, however, in his latest movie,
Knives Out
, about which he talked in a video for Vanity Fair that you can watch below:
As he was breaking down scenes from the movie, Johnson shared a curious caveat about working with Apple products in movies. Around the 3-minute mark of the video, he says
"Apple, they let you use iPhones in movies but, and this is very pivotal if you're ever watching a mystery movie, bad guys cannot have iPhones on camera."
He's mentioning mystery movies in particular because that's the type of movie
Knives Out
is and knowing that about iPhones lets you remove at least of the suspected murderers from consideration.
But what that statement really shows is the extent to which Apple is concerned with its image and wants to control the way the brand is portrayed in pop culture. It's funny to think that they put all that effort as if someone would see the iPhone in the bad guy's hands and think
"Oh no, I should never buy that product!"

Apple's diligence when it comes to movie portrayals is even more absurd when you remember that in the real world, bad guys seem to be using iPhones en masse.
The company is at odds with the FBI
and other authorities for years now because it refuses to unlock the iPhones of criminals. But hey, as long as Bond villains are using Android, it's all fine!