The quirky Microsoft Surface Duo is $450 off at Best Buy
We may earn a commission if you make a purchase from the links on this page.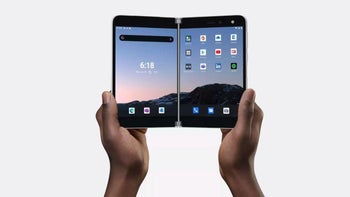 It's the age of foldable phones, everybody! Well, maybe not yet but smartphone manufacturers are locked in an arms race to bring the flexible screen dream to the masses. Tongue-twisters aside, we already have a number of foldable phones available with different design solutions.
Microsoft being Microsoft though, decided to go its own way with the
Surface Duo
. It's still a foldable phone but it features two separate screens on a 360-degree hinge. It's a quirky little device that launched with a price tag of $1,400.
Now you can own this piece of strange technology for less than a grand, thanks to the Best Buy deal that's active at the moment. The Surface Duo is listed at $949.99 and that's
$450 off
its normal price.
It's not just a gimmick, though. The apps are specifically designed to work with the two 5.6-inch AMOLED screens and there's an optional Surface Slim Pen for every Galaxy Note fan out there. The Surface Duo is also amazingly well-built with a metal frame and a hinge to last.
Be the quirky one with the Microsoft Surface Duo!