Big news from Google! The Magic Eraser is now found on all Pixel models and some iOS/Android phones
16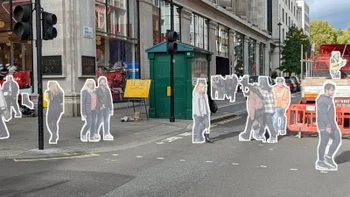 Big news from Google
today! The Magic Eraser feature that debuted on the Pixel 6 series is now available to all iOS and Android users with a subscription to the Google One cloud storage service. And all Pixel models from the Pixel 5a and earlier will get this feature as well even if they don't subscribe to Google One. The Magic Eraser eliminates distractions that take away from the subjects of your photos. You must have the Google Photos app installed on your phone to use the Magic Eraser.
To employ the Magic Eraser, open the Google Photos app and tap on a photo that you'd like to edit. Tap on the Edit option found under the photo, and then tap on Tools. If the Magic Eraser is available for you to use, you'll see the button underneath the photo. Tap on it and the phone will give you recommendations of people and things to erase. If not, use your finger to draw a circle around the person or thing you want gone from the photo, and like magic, it will disappear.
You might notice that when using the Magic Eraser, you'll have two options to choose from, "Erase" and "Camouflage." If you're going to use the Magic Eraser, make sure that the Erase button is highlighted. If you want to use Camouflage, the latter button should be pressed and highlighted.
Camouflage is a feature that will tone down the color of objects
that might be too colorful and take attention away from the subject of your photo.

The Magic Eraser is coming to all Pixel models
Google
also is adding a new feature to the HDR effect that balances dark foregrounds and bright backgrounds on photographs allowing more details to come through. Now, the HDR effect will work to balance the brightness and contrast of your videos. And for those who like to create collages, all Google Photos users can now use Styles on a single photo in the collage editor. Also, new Styles will be available to Google One subscribers and Pixel users.
Originally it was thought that these features would require a phone with the AI-focused Google Tensor or Google Tensor 2 chipset, but it seems that the company has discovered a way around this requirement.

Finally, if you're a Google One member, you can get free shipping on print store orders from the United States, Canada, the European Union, and the United Kingdom. If you're not a Google One member, a free trial will be offered early next month to allow users to try these features.