LG phone with 16 cameras could be in the works
29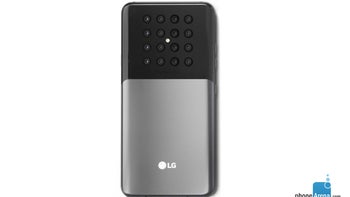 Concept render of a phone with 16 cameras, based on LG's latest patent
In the beginning, there were phones without cameras. Now, we have phones with two, three, and most recently four main cameras. This trend of adding more and more lenses is slowly, but surely, inching us closer to a future when people with trypophobia won't be able to look at the back of their phone. Also, don't Google trypophobia if you don't know what it is.
Rumors of a Nokia device with
five cameras
have been floating around for quite a while, and if it seems excessive to you at first, wait till you hear about LG's latest patent, which more than triples that number. We are talking about 16 cameras here.
Sixteen
. On a smartphone.
A new patent, granted to LG by the United States Patent and Trademark Office (USPTO) earlier this week and discovered by
LetsGoDigital
, involves a smartphone with a main camera setup that consists of 16 lenses with varying focal lengths and characteristics. And though this may seem like
one
too many, the patent actually goes over some pretty exciting stuff that could be achieved with this number of cameras.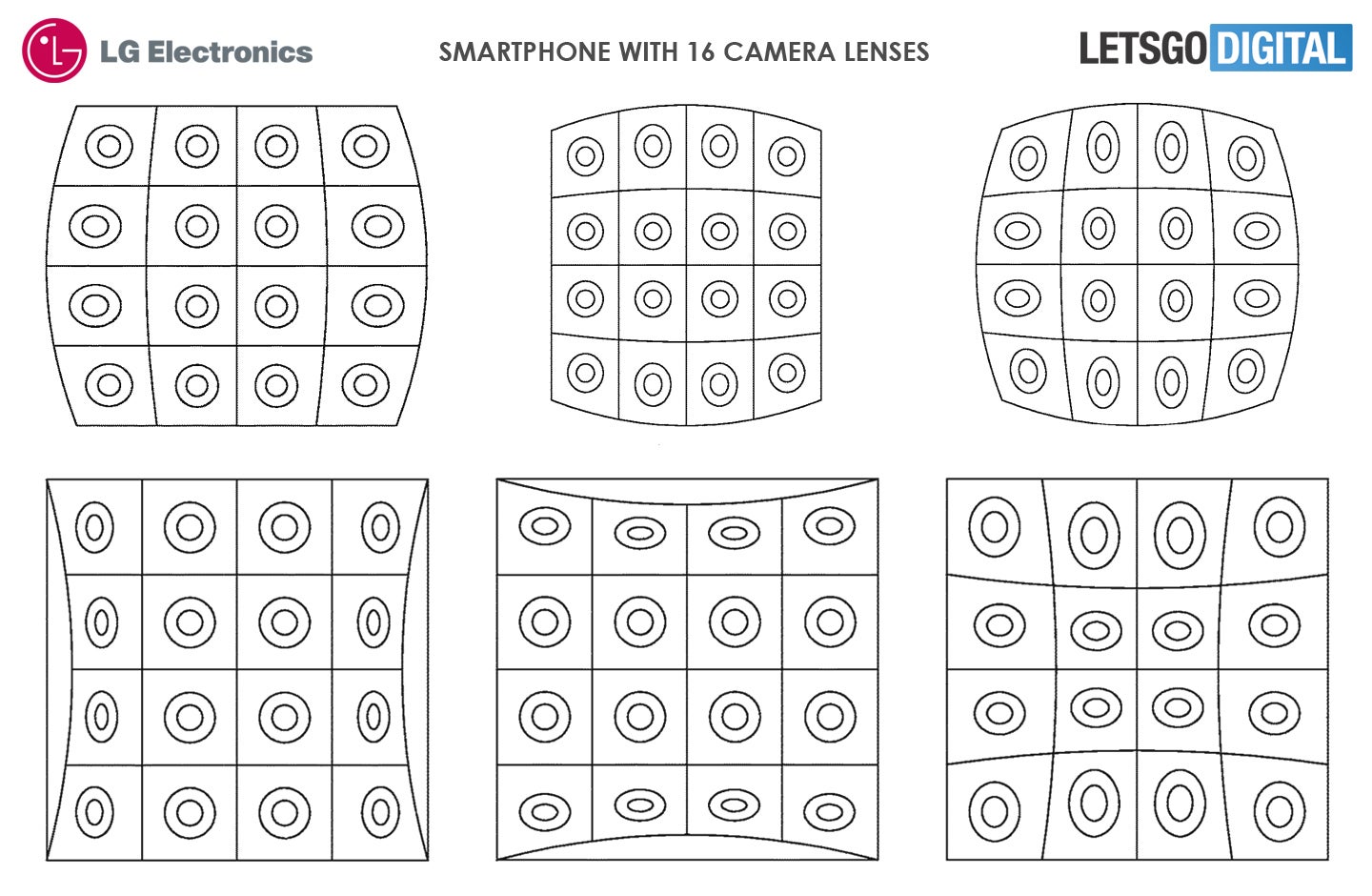 Different camera arrangement possibilities as per LG's patent
For example, with a single tap, all 16 cameras will take a shot at the same time and you'll be able to pick your favorite after the fact. Want a wide-angle shot of a beautiful landscape? Sure. But what about a nice one at a longer focal length? You've already got it. Seeing as how smartphones are currently capable of capturing bursts of a hundred images in mere seconds, LG's vision may not be too difficult to pull off in the near future.
Another cool prospect is that of vastly improved depth perception in the phone, which could lead to a more accurate shallow depth of field simulation for Portrait mode or even allow us to change the focus after the photo has already been taken. The patent also mentions stitching various parts of different images together and other sorts of manipulations that users could be able to do after taking a picture.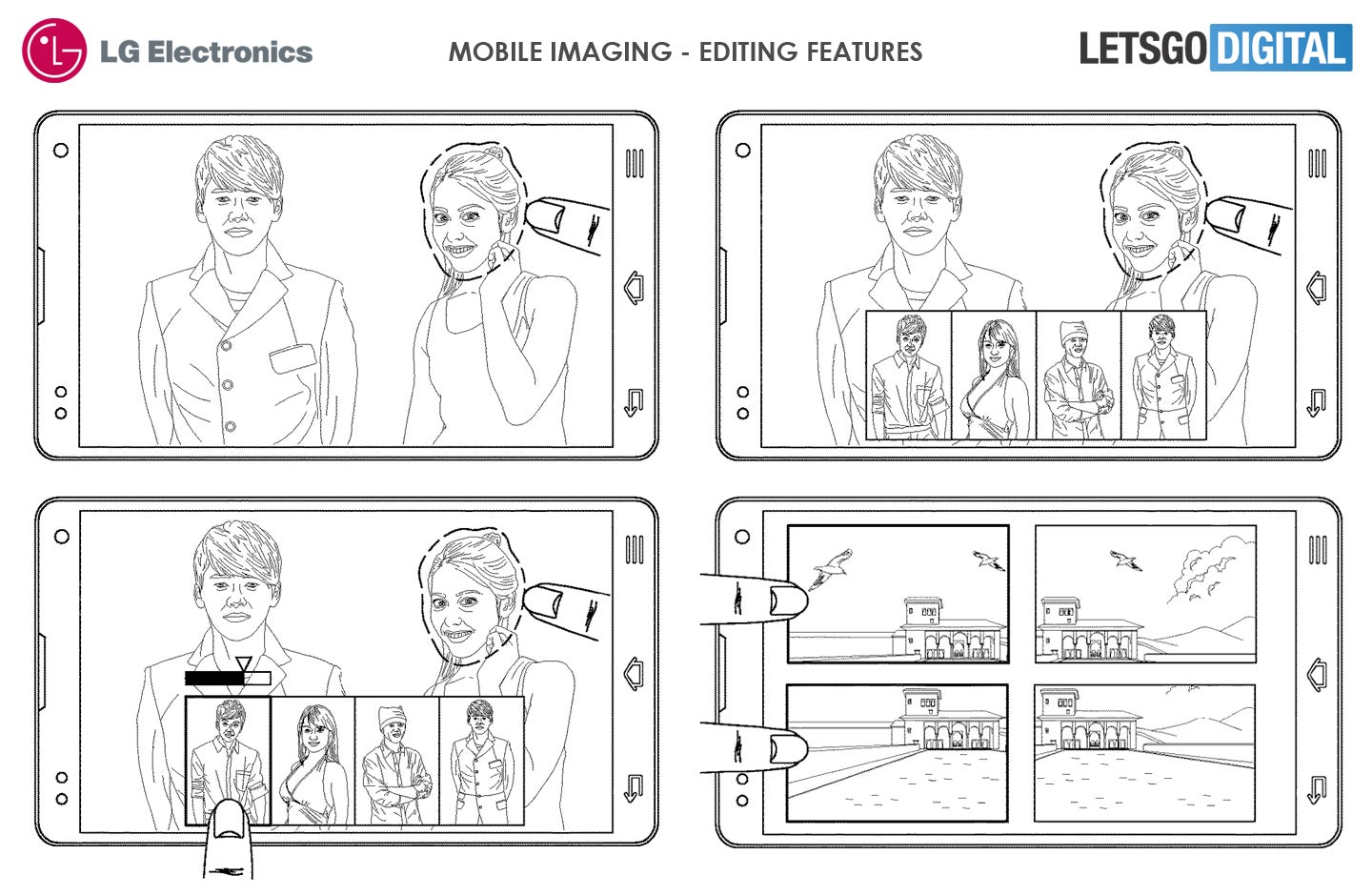 An image from LG's latest patent showing some face-swapping trickery and stitching four images into a panorama
But what about the selfie camera then? Well, it's just a good ol' lonesome lens on the front. But wait! LG would never let that sweet, sweet camera setup on the back go to waste, right? You will be able to take selfies — 16 at a time, to be precise — using the rear cameras... with the help of a tiny mirror.
A couple of illustrations in the patent show how a mirror could be used on the back of the phone to help with taking pictures of yourself. It seems like a crazy idea and won't be as precise as actually seeing yourself through the camera, but then again, you'll be taking 16 pictures at a time. At least one's gotta turn out well.
LG has been known for experimenting with new things when it comes to smartphone cameras, with the wide-angle shooter becoming a trademark of sorts for the company, so it wouldn't be too far-fetched to assume that LG could try adding more cameras to its phones. Furthermore, there's already a portable camera with 16 lenses (and sensors) on the market. It is called the Light L16 and allows you to take 52-megapixel images that you can manipulate in different ways later on. Granted, it's not as small as a phone, but that's what thishe industry's good at – scaling down tech to snuggly fit inside of your pocket.
ALSO READ: