What would you buy: LG G8 or Google Pixel 3a XL?
14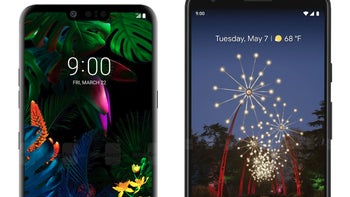 Over the last few years, LG's phones haven't done... amazing. A few months after their release, some deals start rolling in and the prices rarely bounce back up to flagship levels. The most recent
LG G8 ThinQ
discount makes us think it's that time of the year — you can grab the latest LG top-tier phone
for a total of $490
on Verizon.
That's a price very close to the $480 tag of the recently released
Google Pixel 3a XL
. The latter, we expect, will be a midrange market hit, as it comes with the same design of the flagship Pixel line, the same Google epxerience, and — most importantly — the same top-notch camera!
So, here's a conundrum — do you go with LG's decked out flagship phone or do you go with Google's "we cut some corners here and there" plastic midranger? The G8 definitely has the more powerful processor, a metal and glass build with wireless charging, an ultra-wide-angle secondary camera on the back, more storage and a microSD card slot. Yeah, it also has that air gesture control feature, but let's not ever mention it. But hey, it doesn't have that Pixel pizzazz, a.k.a. the promise for quick software updates and a clean and fast Android interface.
So, if it were to come down to making a choice with the $490 in your pocket — which one of these would you buy?