The final names of the iPhones revealed. Bonus: larger display Apple Watch to launch today
10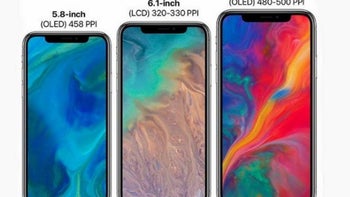 For the most of 2018, we've been wondering: "How is Apple going to name the next iteration of the iPhone?". The company pulled a weird stunt last year, when it announced an iPhone 8 and an
iPhone X
(that's 10, not X), effectively jumbling up the continuity.
It seems we weren't the only ones that were puzzled as to what names Apple might pick for its next phones. According to rumors, the guys at Cupertino were scrambling to pin the final product names, too, as they had written themselves into a corner with last year's decision.
Soon after those rumors, we got the first leaks claiming the phone trio would go by iPhone 9,
iPhone XS
, and iPhone XS Plus. Then, there was a bit of a change — the biggest one went from Plus to Max, then back to Plus again. And the most affordable one went to iPhone XC and then to
iPhone XR
. Yeah, it was a bit of a mess trying to follow those reports.
Now, just hours before the official announcement, we seem to have the final names for the new iPhones. These were siphoned from the HTML can't get them now, since Apple has taken the Store down as it always does prior to its announcement events. So, we'll just have to trust the leakers.
Here we have a few screenshots of Apple's in-store link addresses, pretty much confirming the following names:
iPhone XR; iPhone XS; iPhone XS Max
But wait, there's more! Another screenshot was taken before the Apple Store was pulled and that one involves the new
Apple Watch
models. Yup, it seems we will, indeed, see a new Series 4 announced today! What's special about it? Well, the HTML link has it listed as a 44 mm model.
edge-to-edge displays
with a much, much slimmer bezel. We will probably get screens that are very noticeably bigger this year, especially on that 44 mm model!