Adoption rates drop for iOS 15 and iPadOS 15
4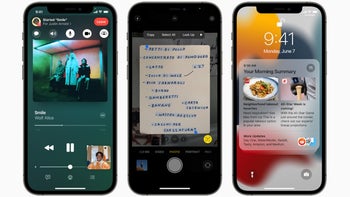 Apple
gave iPhone users a new choice this year. They could decide not to install iOS 15 and stick with iOS 14 but continue to receive security updates. As a result, the adoption rate of iOS 15 is lower than the number recorded for iOS 14 during the same time period last year.
30% of iPhone users are still running iOS 14 on their handsets

This trend was apparent starting just three days after iOS 15 was released on September 20th. At that time, 8.5% of eligible iOS users had updated to the latest build compared to the 14.5% that updated to iOS 14 three days after the latter was introduced last year. By the beginning of last October, the adoption rate was shockingly lower at 21% compared to the 40.51% that had adopted iOS 14 during the same time during the previous year.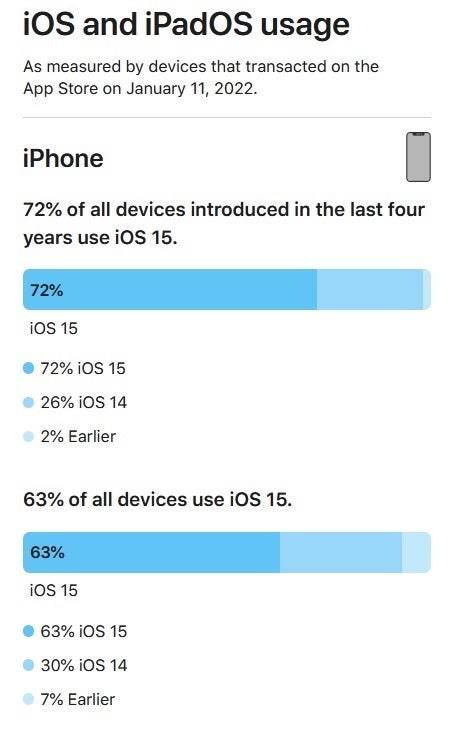 The adoption rate of iOS 15 is down compared to last year's iOS 14 adoption
Data released by Apple
now shows that 72% of compatible devices introduced in the last four years have updated to iOS 15 while 26% are still using iOS 14. 2% are running their Apple device on iOS 13 or older. 63% of all compatible devices are driven by iOS 15, 30% are running iOS 14 and 7% are powered by iOS 13 or less.
The numbers show that 57% of iPad tablets introduced within the last four years are powered by iPadOS 15 with 39% running iPadOS 14; 4% are using iPadOS 13.1 or earlier. 49% of all iPads are now using iPadOS 15 with 37% running iPadOS 14. The percentage of iPad tablets powered by iPadOS 13.1 or earlier is 14%.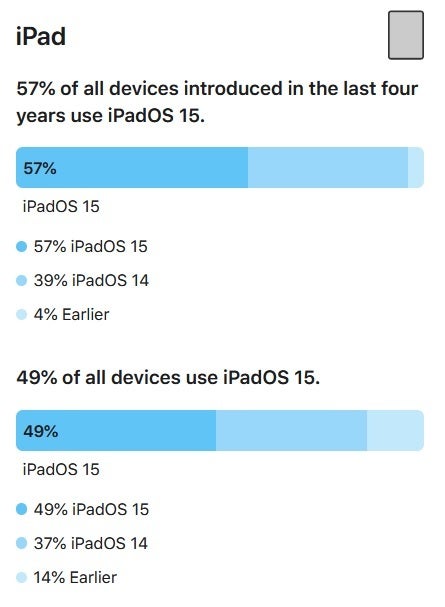 Adoption rates for the Apple iPad and iPadOS
Apple collected the information from devices that made a transaction from the App Store on January 11th, 2022.
Among the new features on iOS 15 is Focus, a more complex version of Do Not Disturb that allows users to concentrate on certain tasks without getting interrupted by alerts and notifications from apps. Another feature, SharePlay, allows members of a FaceTime call to all enjoy viewing the same streaming video or listening to the same streaming audio.
There are plenty of new features that should users the incentive to upgrade their old software
Apple Maps received a major upgrade in iOS 15 with major cities getting more detailed 3D maps. And if you enjoy walking, in some locations Apple Maps will show you step-by-step directions in AR. Another eagerly anticipated iOS 15 capability is Live Text. This allows a user to take a photo from his/her camera roll or from the live preview from the camera on the display and use features such as translate, copy and paste, or even make a phone call from a phone number listed on a sign that was photographed.
This might all be old news to phone enthusiasts, but if you purchased an iPhone that came equipped with iOS 14 pre-installed, you might have decided not to update it to iOS 15. If that's the case, we're just letting you know about some of the features that you're missing out on by sticking with iOS 14. 30 out of every 100 compatible iPhone users are still using the older software, so there is a good chance that some of you reading this are still running iOS 14 on your iPhone.
With that in mind, let's scan through some more iOS 15 features that might give those still using iOS 14 an incentive to update. This one is boderline, but music discovery app Shazam can now be found in the Control Center to help you discover the name of that song that you just heard and can't get out of your head.
Hey, even Siri was improved in iOS 15 with on-device speech processing. No longer does Siri send audio of your requests to a server. As Apple notes, "The audio of your requests is now processed entirely on your iPhone unless you choose to share it. The power of the Apple Neural Engine enables speech recognition models with the same high quality as server-based speech recognition."
If you own an iPhone 6s or later handset, you can still update to the latest version of iOS 15 (this also includes the first generation iPhone SE). Go to
Settings
>
General
>
Software Update
.