iStation camouflages your iPad into an Apple computer from the 80s
12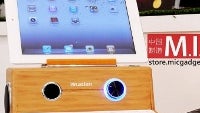 Got an iPad and have a nostalgia for the past of computing? Well, while technically you'd still be in 2011,
iStation
, an Apple II-esque stand, brings you looks even better than Macs had back in the 1980s. The one small difference is the couple of hundred times faster processor on the iPad and the touchscreen, but that's one modern day convenience we'd like to keep even in this retro looking setup.
The stand itself also works for the iPhone, and in both cases you also get a
Bluetooth keyboard
to fully emulate the feeling of a retro Mac. The wooden finish overwhelms you with the wild illusion that computers could indeed be made from wood and this marriage of materials is what really makes this a neat idea. But you can also get a plastic grayish stand which would fit perfectly a black iPad. The stands have stereo speakers with a subwoofer, which is definitely a welcome addition.
There's also a USB port which allows you to
charge the device
while it's docked. So overall, for $85.90 you get the stand with a Bluetooth wireless keyboard, a USB to micro-USB charging cable, a 3.5mm mini-stereo to 3.5mm mini-stereo TRS cable and an AC Power Adapter. It's compatible with the iPad, iPad 2, the iPhone 4 and 4S, but you'd better order yours soon if you want to get it for the holidays - the demand seems overwhelming and orders are expected to arrive only on December 26th.
Recommended Stories