PowerSkin iPhone 4 Case Review
6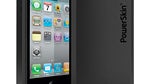 Introduction and Design:
By now, we've seen how processors have eclipsed our capacity to provide stellar experiences on our smartphones, but with raw power comes the ever-growing demand of power consumption. There's no arguing that the
iPhone 4
exhibits some good battery life, as we've experienced first-hand, but for those power users out there, it might not be simply enough to last them throughout the day. Well, If you happen to have $80 and some change lying around somewhere, you might want to consider picking up the
PowerSkin case
for the iPhone 4. Packing a sizable 2,000 mAh battery, it's touted as doubling the battery life of the iPhone 4 – while simultaneously presenting itself as a protective case.
Placing the handset into the PowerSkin case, it quickly loses its alluring sleek looks, and instead, its overall thickness is nearly doubled to make it rather bulky, hefty, and boxy looking. Its silicone rubber casing is actually constructed from recycled materials, while offering some level of shock absorption, adequate grip, protection, and a clean overall look. However, its uninspiring design is rather mundane.
In order to place the handset into position, you'll need to put the iPhone 4 on an angle and line up the 30-pin port with the
connector
on the PowerSkin case. Once it snaps in, you can push it into the case so that it's completely protected.
On the
left side
of the case, there is a cutout for the
vibrate switch
, while two
outlined circles
are positioned directly over the iPhone 4's volume buttons. Meanwhile, another cutout is found on the top edge for the 3.5mm headset jack, and another outline button is placed on
top
of the dedicated power button. Thankfully, these outlines still offer a tasteful, yet tactile response when pressed.
To gauge the battery's level, there are
four blue LEDs
placed consecutively along the bottom edge – with a
button
nearby that activates the charging mechanism by executing a long press on it. Additionally, pressing on the same button once will light up the LEDs showing off how much juice is left in the tank. Finally, a
microUSB port
is found on the
right side
of the case, which allows you to charge the case via any USB port. At the same time, you can still synchronize the iPhone 4 with iTunes while it's charging – meaning, you don't need to take the phone out of the case.
Recommended Stories