Mophie juice pack plus for iPhone 4 Review
5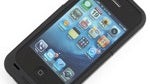 Introduction:
Mophie Juice Pack Plus
is an
iPhone 4
power pack that has impressed us with its capacity, but as it adds to the battery life, has it managed to keep thickness at the level of Mophie's previous product, the Juice Pack Air, and is it worth the $100 price tag? You'll know the answer to the first question from the get-go – the Juice Pack Plus is virtually as big as the already pretty thick Air at 0.71 inches of girth. It makes your iPhone 4 look like it worked out religiously only to put an amazing muscle mass of 2.5 ounces. It's not obese – it's bigger, stronger, with 2000mAh dwarfing the 1420mAh battery on the iPhone 4 and the 1500mAh capacity of the Mophie Juice Pack Air. In a nutshell, the Mophie Juice Pack Plus totally ruins the slim profile of your iPhone, but in return it turns into a well-armored soldier. One hardly fitting in your pocket, though.
Design:
But let's start from the beginning and that's how you fit your handset in the case. To do that you simply take off the top part and push the iPhone in for a snug fit indicated by a silent click. Mophie has cut out holes for the camera, mute switch and the 3.5mm jack, while the volume rocker and lock key are accessed via silver plastic buttons on the case. The only minor issue we noticed is that folks with bigger hands might have a hard time reaching for the mute button. Overall, the Juice Pack is a well protected case with a soft touch rubber coating on the back and matte plastic on the inside. We tested a black juice pack, but you could order it also in yellow, pink and blue.
On the
front
, sound is redirected through two holes and you can notice a slight improvement as the case itself acts as a speaker box for better acoustics and fuller overall sound. On the bottom, you have an
LED status indicator
activated by the nearby button and showing you how much juice you have left. Mophie's battery pack comes with a microUSB-to-USB cable for charging the device and it's plugged in the pass-through
port
on the bottom right. Finally, the left side holds a tiny
switch
for turning the juice pack on and off.
There are two omissions that we would have wanted to see in this product: some kind of screen protection and kickstand..