Cracks are mysteriously appearing on the Apple iPhone X dual-camera glass cover
67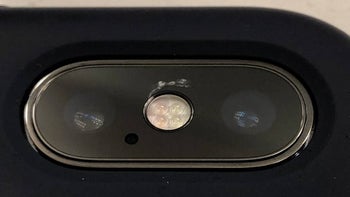 Since January, a thread on the Apple communities discussion forum has been growing. It appears that the glass cover on the
Apple iPhone X
that protects the lens on both rear cameras has started cracking on a number of units. Now we know what you're thinking. Sure, if you drop the phone on a hard surface some glass will crack. And that would make sense except that the complaints came from iPhone X owners who insist that they have never dropped their expensive handset.
Apple charges $99 for an AppleCare+ covered replacement, and one poster on the aforementioned Apple communities forum said that the Apple Store wanted to charge him $549 for a repair not covered by Apple's warranty.
So if the phone isn't dropped, what could cause the cracks to appear? Some blame the temperature. Apple states that the iPhone X needs to be in an ambient temperature range of 32°F (0°C) to 95°F (35°C) while in use, and -4°F (-20°C) to 113°F (45°C) when at rest. Some of the posts on the forum were from iPhone X users that operated the phone in colder conditions than those specified by Apple, and found no damage whatsoever on their device.

Perhaps this is something that is not weather related. One Apple community member says "This obviously is a design/material flaw!" Whatever the reason for the cracks, Apple has been mum. Considering the bad publicity it received last week when it was discovered that
the company knew in advance that the iPhone 6 and iPhone 6 Plus would bend
, and that its decision not to use epoxy led to "Touch Disease" on the same models, Apple needs to be completely transparent about this new issue.
"I had exactly the same crack, event the location of the crack is about the same! Bought iPhone X right before Christmas, and found a crack on the rear camera glass last night. The phone has been used with cover all the time and no drop or accident. Went to Apple Store this morning and was told to pay $549 to have it fixed. Are you kidding me Apple??? This obviously is a design/material flaw! We are so very disappointed. Currently all family members are using iPhone but with such a bad experience we will switch."-Apple iPhone X owner
Recommended Stories