iPhone wallet case is a neat design from a 15 year old
11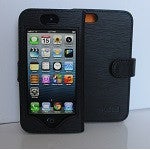 iWallie is the brainchild of Vojtech Svarc in Czech Republic. Vojtech wanted an iPhone case that would also serve as his wallet. The products he found however also inhibited easy access to use his iPhone as he did not want to have to open the case in order to use his phone.
Svarc decided to design his own perfect case for his iPhone 5 and the idea was just about cool enough that he and his dad decided to crowd-fund the project so that others could get what he has dubbed, the "iWallie." The iWallie is a case for your iPhone, plus cards and cash which folds behind the face of the phone making a rather stylish looking case/billfold.
It gives you access to your phone while the case holds your cash and cards securely on the inside, the whole thing snaps shut. Vojtech has designed eight color variations as well. Those that support him through his Indiegogo campaign will be able to get one for only $25 which includes
free international shipping.
Moreoever, the campaign is using Indiegogo's flexible funding program, meaning that all the funds committed by the March 5 deadline will be contributed to Vojtech and the iWallie which means that
everyone that pledges will get a case.
The goal is $10,000 over the next couple of weeks, so check it out in the pictures and video below, and remember, if you contribute, you will get your iWallie by the end of March. If this project takes off, Svarc hopes to build variations of iWallie for previous generation iPhones and maybe other devices as well.
sources:
iWallie
(Indiegogo) via
Mashable
iWallie iPhone 5 case