iPhone prototype now surfaces in Bangkok: is it real?
62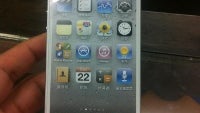 The iPhone rumors are literally swamping us recently - will it have a new thinner and larger screen; will it feature LTE; will it come with a redesigned dock connector and finally, of course, will it blend? Those are all questions we don't know the answers to for sure (we'd bet it'd blend, though!). What we do know is that most rumors agree on a larger, possibly 4-inch screen, LTE connectivity and best of all - an official announcement that will come very, very soon - on
September 12th
.
And now as we're just around a month away from that big upcoming event, we get to see more images claiming to be of the iPhone. This here set of images is no exception - they claim to be of a non-working iPhone prototype spotted in Bangkok. The source for the images of the alleged
"prototype finalized design casing"
came from ex-staff member at MBK Center in Bangkok. Overall, it looks fairly realistic to what rumors have programmed us to expect, but that single physical menu button spoils it all for us. It just looks non-proportional, as if it was from a cheap knock-off and makes us doubt the whole thing.
We can't vouch whether they are real or not, but what we do see is some form of conformity with all those rumors we pointed out. How do you like what you see and how real you think these images are?
source:
NeoWin
Recommended Stories