iPhone apps for WM? A problem indeed, but certainly not insoluble
2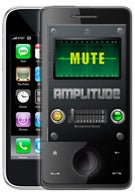 One of the major factors that has allowed the
iPhone
to gain an upper hand is the monstrous size of App Store. There you can find virtually everything you might think of. Is it possible that the same diversity of apps becomes available to Windows Mobile owners? That´s the question that Luke Thompson, programmer with the software development company Gripware, has taken on to answer.
He examined the source code of an app called
Amplitude
and modified it so as to make it compatible with the
HTC Touch Pro
running Windows Mobile 6.5 ROM. One of the major tools he relied on was Visual Studio 2008 Development Environment plus he was helped by developers of the Windows Mobile community. Of course, they faced quite logical problems - the lack of multitasking in iPhone OS, the screen orientation change on opening the hardware keyboards of devices like the Touch Pro and the feeble graphics procesing power of WM when it comes to visualizing certain things like semi-transparent interface elements. Ultimately, porting iPhone software for Windows Mobile is possible indeed, even if not easy as it may seem. Who knows, perhaps this will soon turn out to be a viable way of enriching Windows Marketplace for Mobile with more apps.
source:
Windows Mobile Blog