iPhone Xs Max and iPhone 9 cases discovered at Walmart - they're big
33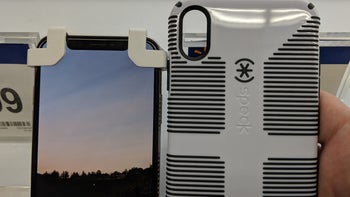 For the first time ever, Apple is seemingly getting ready to announce three big smartphones on the same day - a 5.8-inch
iPhone Xs
, a 6.5-inch
iPhone Xs Max
, and a 6.1-inch
iPhone 9
. Said day is
September 12
, so there's still almost a week left before Apple officially unveils its
2018 iPhone lineup
(and presumably confirms the aforementioned names). Until that happens, someone discovered that Walmart is already stocking cases for two of Apple's upcoming iPhones.
Reddit user Meechflow95 has managed to snap photos of cases made for the iPhone Xs Max and iPhone 9, and compare them to the
iPhone X
. Since the new handsets are expected to sport screens measuring 6.5 inches and 6.1 inches, respectively, their cases are obviously larger than the iPhone X, which sports a 5.8-inch screen. At the same time, it appears that the iPhone Xs Max will be about as large as the iPhone 8 Plus (with its huge bezels).
Both the iPhone Xs Max and iPhone 9 cases have similar vertical cutouts for the rear camera. But their cameras will, most likely, not be similar. The iPhone Xs Max should feature a dual rear camera, while the iPhone 9 reportedly comes with a single main camera.
For now, there's not much else that these cases can tell us. Nevertheless, we know that Apple's three new iPhones are all expected to look a lot like the iPhone X, notch included. But, while the iPhone Xs and Xs Max come with OLED displays, the iPhone 9 should have an LCD screen (and lack some features in order to keep costs relatively low).
Recommended Stories