iPhone XS and XS Max announced by Apple, starting at $999
99+
Under the watchful eye of CEO Tim Cook, Apple marketing guru Phil Schiller today introduced three new phone models: the iPhone XS, XS Max, and XR. The latter is the most affordable model of the three, and you can
learn more about it here
.
Now, let's turn our attention to the heavy hitters in this year's line-up – the iPhone XS and XS Max.
Same design, new color
New Gold joins Space Gray and Silver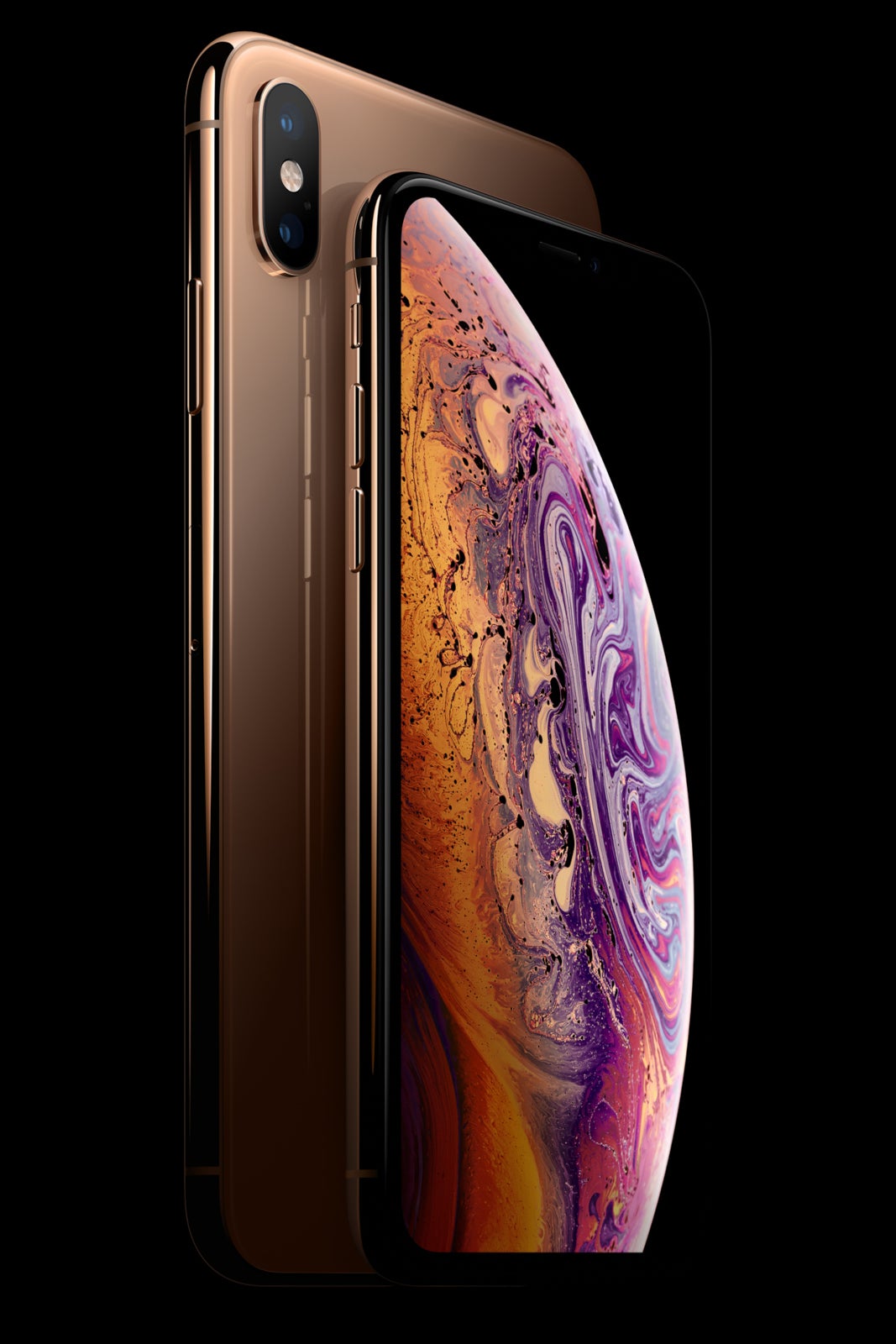 The iPhone XS is an upgraded version of last year's iPhone X, keeping the same design, 5.8" OLED display and dimensions, but featuring upgraded internal components, like a new, ground-breaking A12 Bionic chipset.
The iPhone XS Max is what the Plus models were to the previous generations – it's a bigger (but not meaner) version of the XS, with a significantly larger, 6.5" OLED screen, the same A12 Bionic chipset, and some added software capabilities, like the split view in some built-in apps like email and calendar that we know from iPhone Plus models.
Even though the iPhone XS and XS Max retain the same look and construction, including the beautiful, polished stainless steel frame and front and back glass, there is actually one big, gorgeous update to the styling. Joining the Space Gray and Silver options we know from last year's iPhone X, the XS and XS Max will also be offered in a variation that has a gold-colored frame and matching gold-colored glass back. And speaking of the glass, Apple claims that the glass used on the XS and XS Max is the strongest glass ever used in the construction of a smartphone. This makes the new iPhones an impressive mixture of stunning appearance and welcome durability.
5.8" and massive 6.5" OLED displays
The screens are full of tech: HDR10, wide-color support, True Tone, 3D Touch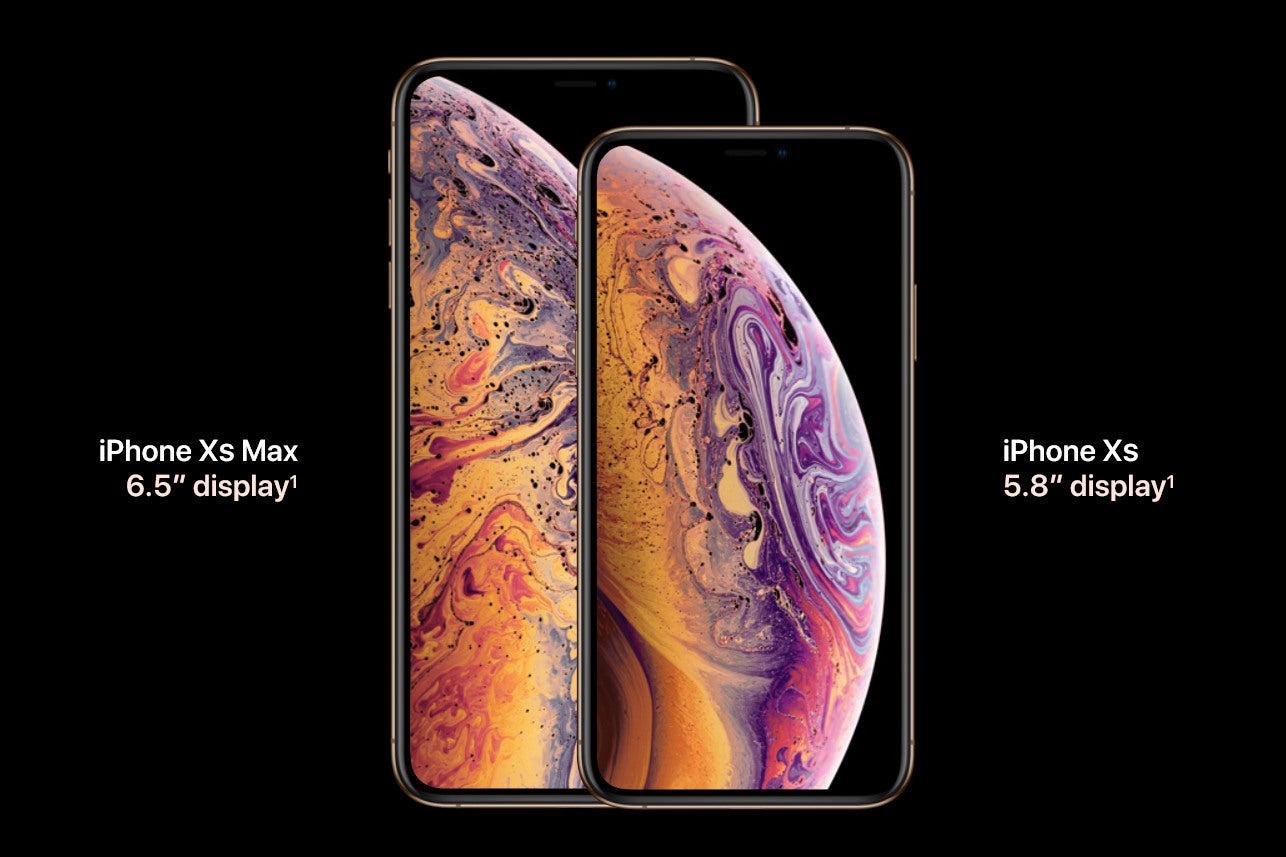 The XS and XS Max come with even better OLED displays than what was available on the iPhone X. Resolution-wise they are the same, coming in at the extremely high 458 pixels per inch (the XS Max gets a higher resolution in order to keep the same pixel density across its larger area).

The big upgrade is in the form of high-dynamic range support, resulting in HDR10 and Dolby Vision compatibility. While this upgrade probably won't be apparent in most situations, the 60% higher dynamic range of the new screens will allow users to enjoy more impressive video when such content has been encoded in HDR format. Certain platforms out there have already started distributing movies and shows in HDR, including iTunes, Netflix, and Amazon Prime Video. The photos you take with your iPhone will also look fancier on the new XS and XS Max displays, as those too come in high-dynamic range format.

In addition to that, Apple continues to stuff other useful technologies in these panels, such as wide-color gamut, True Tone (adjusts display warmth based on ambience) and 3D Touch.
Camera: seriously upgraded with a new killer feature
Smart HDR will make it easier than ever to capture dramatic photographs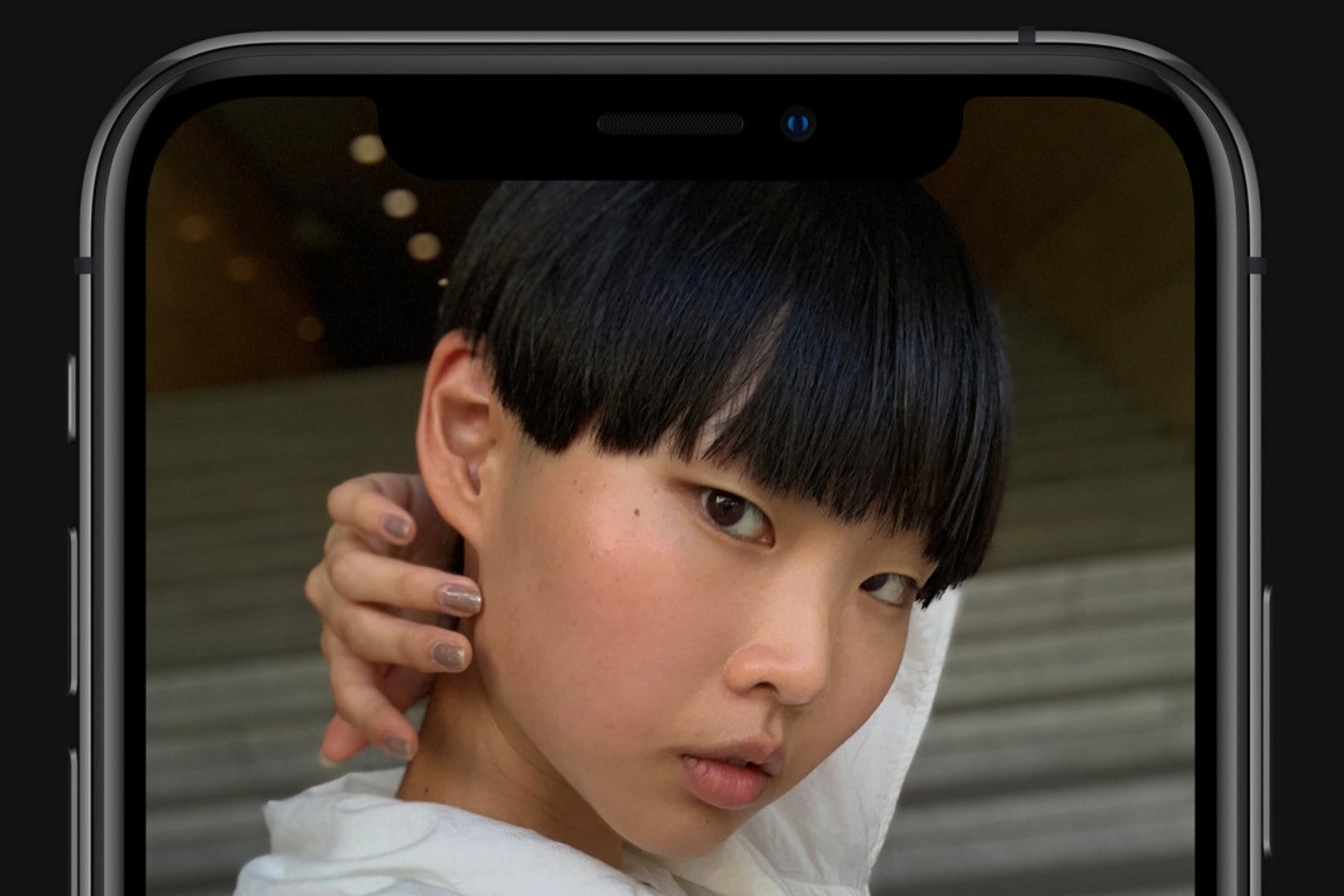 Apple has implemented a number of important upgrades to the camera system on the iPhone XS and XS Max. As before, we're dealing with a duo of 12 MP cameras: one normal, one telephoto, with the latter being capable of 2x optical zoom and snazzy portrait shots. While the number of megapixels is the same, the main camera relies on a new, bigger sensor with 1.4 μm pixel size (previously it was 1.22 μm). And while this will inherently improve the quality of the images, the real killer feature in the new camera system is called Smart HDR.

Smart HDR involves some incredibly heavy processing work on behalf of the new A12 Bionic chipset and the new Image Signal Processor (IPS). Apple bills this new feature as a breakthrough technology that makes it easier than ever to take superb shots. Simply put, the device will now do even more heavy lifting in order to take multiple frames, fuse them together, curate them and process them, so that in the end you can have one shot that exhibits great quality across all aspects, like color balance, exposure, focus, and detail. Smart HDR is a feature that sounds very similar to what Google has been doing with its Pixel phones, where the device relies on a neural engine and machine learning to produce good-looking photographs. The biggest advantage that Apple describes is that it'll allow for more detail to be captured in both highlight and shadow areas.
The new camera allows you to set the right amount of bokeh for each portrait photo:
The company illustrated what it's trying to achieve with a particularly problematic scene, where, through the power of Smart HDR and computational photography, the phone still managed to come up with a usable, good-looking photo. It's a picture of a person that is taken right against the sun (but this could also be any other strong lights source). This is usually a big no-no in photography; however, in the example Apple showed, both dark and bright areas of the image were still adequately exposed.
Other examples showcased the improved bokeh effect (the blurred backgrounds in portrait photos). With more detailed facial mapping and subject segmentation, the new iPhone XS and XS Max are promised do even better when it comes to portrait photos. We should get less visible separation between subjects and backgrounds, and the examples that Apple showed make us hopeful. Some of them even showcased rogue strands of hair that looked to be correctly isolated and processed!
A12 Bionic chipset

The industry-leading system chip gets even faster and more efficient

One year after its introduction, the A11 Bionic was still the fastest chipset one could find on a smartphone. The new A12 Bionic in the iPhone XS and XS Max keeps the name, but takes things even further with 2 high-performance cores that are up to 15% faster than before, and 4 power-efficient cores that are up to 50% less power-hungry than those in the A11. What's more, an improved performance controller will make sure that work load is optimally split between all the cores, as well as that all six cores will be primed and ready for action, should a huge power spike be needed.
The GPU hasn't been forgotten by Apple. A brand new, quad-core custom-designed graphics processor is promised to deliver up to 50% increased performance, benefiting games and other graphics-intensive tasks such as Augmented Reality.

A big deal seems to be the new Neural Engine, which is used for advanced, real-time machine learning. It's job is to detect patterns, learn from experience and thus make predictions regarding various things. The ways this very important technology is going to manifest will be numerous and span system applications, as well as developer-made, third-party apps that you can get from the App Store. For example, the Neural Engine is what allows you to just type in "dog" in the Photos app, and get results with all of your pictures where a dog can be seen, without you having to first tag your photos in any way. With the rise of IT disciplines such as Artificial Intelligence and Machine Leaning, it's understandable that Apple is making investments in such features. While the results of all this work are not exactly obvious right now, it's quite possible that we're on the verge of a revolution that could change how we experience and interact with computing devices.

iPhone XS & XS Max price and release date
Pre-orders open September 14, shipping begins September 21
The two new premium iPhones seem to be tremendous technological achievements, but they also come with premium prices to match.
The iPhone XS keeps the starting price of its predecessor, and will be available at $999 / $1149 / $1349 for 64GB / 256GB / 512GB storage capacities, respectively.
The iPhone XS Max will be more expensive, available at $1099 / $1249 / $1449 for 64GB / 256GB / 512GB storage capacities, respectively.
And now for the big question: when will the iPhone XS and XS Max be available? Pre-orders will begin on September 14, while the release date itself is set for September 21.
| Prices | 64 GB | 256 GB | 512 GB |
| --- | --- | --- | --- |
| iPhone XS | $999 | $1149 | $1349 |
| iPhone XS Max | $1099 | $1249 | $1449 |