iPhone XS Max or Galaxy Note 9: which one would you buy?
78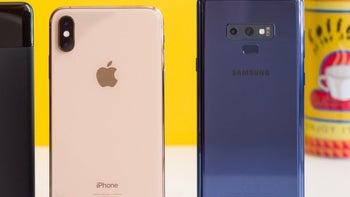 Well, Apple and Samsung's heavy hitters for 2018 are out. Sammy's Note line has always been a representation of what the biggest and meanest Android smartphones can do. And Apple's Plus-sized smartphones are... well, slightly better than the non-Plus ones. Except, this year around, it's called Max.
So, in Samsung's corner, we have the Galaxy Note 9, with a Snapdragon 845, 8 GB of RAM, a massive 6.4-inch AMOLED screen with a 1440 x 2960 pixel resolution, and the beloved S Pen — an unrivaled smartphone stylus. The camera has a 2x telephoto lens and a "normal" lens for your Portrait Mode and Auto needs, there's a blood pressure meter, heart rate sensor, a fingerprint scanner, and an iris scanner on board. Yeah, Samsung packs these things to the brim.
You can get the Note 9 in either 128 GB or 512 GB storage variants, costing $1000 and $1250 respectively.
On the Apple side, it's a 6.5-inch, 1242 x 2688 screen with the controversial notch on top, next to no bezel all around, Apple's very impressive A12 Bionic chip inside with 4 GB of RAM to help it out. The iPhone XS Max sports a dual camera on the back — one normal lens, one with a 2x telephoto lens. Apple's done with its Touch ID fingerprint scanner — the new iPhones have the Face ID tech only, and if you want to get some fancy health-related meters, you'd have to invest in a separate Apple Watch.
Admittedly, the Apple Watch Series 4 is pretty awesome.
So, the iPhone XS Max comes in variants of 64 GB, 256 GB, and 512 GB, with prices of $1,100, $1,250, and $1,450.
So, yeah, the two phones are comparable in terms of price. If you were to splurge $1k+ right now, in this very moment, which of these phones would you buy? Feel free to explain your motivations in the comments below!