iPhone XR users will be able to take portrait photos of their pets using third party apps
6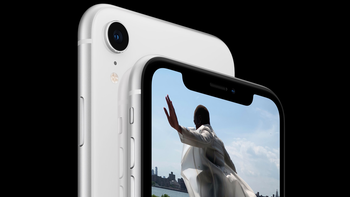 The
iPhone XR
was officially
released last week
and one of the
main differences
between it and Apple's other 2018 models is the camera. The XR has a single main camera, unlike the
iPhone XS
and
XS Max
, which have dual sensors on the back. One of the main benefits of the dual-camera setup is the better depth of field recognition that enables users to make cool-looking pictures using the dedicated portrait mode.
Of course, smartphones these days have the means to separate the foreground from the background in an image using software. Google's Pixel phones have been providing excellent photos using one camera for three generations now. And while the iPhone XR has portrait mode available as well, it was quickly discovered that it works only when the phone detects a person's face within the viewfinder.
This is likely to change soon, however, but not because Apple is planning to release an update that lets the XR detect other objects for portrait mode. Instead, third party camera app developers are looking for ways to add that functionality. The first to do that appears to be the team behind the camera app Halide. One of the developers
shared on the social media website Reddit
that they've successfully managed to access depth of field data from the iPhone XR and use it to apply the portrait mode effect (blurred background) to pictures of pets.
The app's creator notes that "in some settings it won't work if there's not enough variance in relative distance of objects" and "the depth map is way lower resolution than the dual camera setup, but it seems usable". The new feature is still in early stage of development since they've had access to the device for just a few days, but the team expects to improve it over time, allowing it to recognize even inanimate objects.
The availability of the depth of field data means that other camera app developers will be adding their own "non-human" portrait mode solutions soon enough, so Mr. Fluffles's Instagram page won't be sub-par for too long, if you have "just" an iPhone XR.