iPhone Notifications brings iPhone-like notifications to your Android device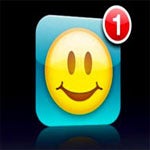 Occasionally we hear from iOS and Android users who love their device and OS, but miss one particular feature about the other device or OS. One such feature popular among many iOS users is the notification style. Until now, users wanting iPhone-style notification bubbles on their smartphone have had to get an iOS device.
Developer Productigeeky is trying to change that with the releases of iPhone Notifications Lite and iPhone Notifications (full) for Android. Both are available now in the Google Play store, and will add notification bubbles and the option to have a notification pop-up at the top of the screen, strikingly similar to iOS onto your Android handset.
As with many apps, the free version, iPhone Notifications Lite, comes with less ability to customize. We recommend first giving the free version a try, then shelling out the couple dollars to get the full version if you fall in love with the iOS notifications all over again.
Download iPhone Notifications Lite for free:
here
Download iPhone Notifications (full version) for $2.61:
here
source:
RedmondPie