This is what the iPhone 9 could look like
28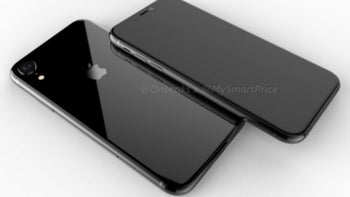 Apple is rumored to launch three new iPhones this fall and the one that we are most excited about this year is actually not the most expensive one, but the most affordable of the three: this rumored 6.1-inch iPhone 9 is said to have an
edge
-to-edge screen with a notch like the X and an image showing it from all sides has just gone live. The image comes courtesy of the prolific leaker @OnLeaks, who has an excellent track record with giving us an early peek at phones that are not officially available.
And if what this early picture shows is indeed true and this phone keeps the price of its predecessor, the
iPhone 8
, it could be one hell of a popular device.
So what does this picture tell us about the alleged 2018 iPhone?
First, you can see that it has the same, big notch at the front and that it does away with the physical button, replacing it with an edge-to-edge screen. The notch is likely to suggest that Face ID is coming to this iPhone in 2018 and fingerprint recognition with Touch ID officially becomes a thing of the past. This is a huge move for Apple, but we have seen that the
iPhone X
is able to recognize faces accurately, and while it is a bit slower than Touch ID, it works surprisingly great. The second thing is the sexy edge-to-edge screen, a hallmark feature of the $1,000 iPhone now coming to this more affordable iPhone. Thirdly, you have the new gesture-based interface that overtakes the physical button for interactions with your device. Gestures on the iPhone X make navigating iOS a much more fluid, smoother experience and they are definitely a welcome addition on this iPhone.
The one (expected) let-down is the single camera on the back of this iPhone 9 2018 edition. With no dual camera setup, the iPhone 9 will not be able to perform many of the tricks of more expensive iPhones, things like Portrait Mode and the ability to zoom without losing detail.
The dimensions of this new 6.1-inch iPhone 9 have also leaked out and it is expectedly bigger than the 5.8-inch iPhone X. Take a look at the leaked sizes below:
iPhone 9 (2018, 6.1-inch): 150.9mm x 76.5mm x 8.3mm
iPhone X: 143.6mm x 70.9mm x 7.7mm
The rest about this phone remains a bit of a mystery: we certainly expect it to be unveiled at Apple's early September event alongside a new iPhone X and an ultra-premium iPhone X Plus model with an even larger, 6.5-inch display. All three phones should be powered by Apple's new A12 system chip that will bring a further improvement in performance. Rumors also point to a new, triple-camera setup on at least one of the two premium iPhone models that are coming.
All of this really sounds and looks exciting. Bezel-less, edge-to-edge devices seem to really take over this year and these iPhones might be at the heart of this revolution.