iPhone 8 could be bigger than what leaks are suggesting
52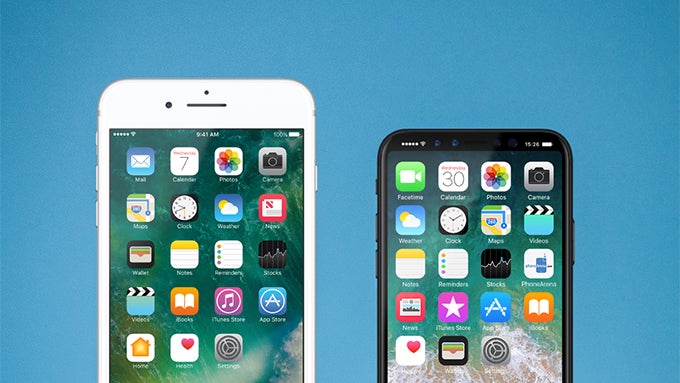 We've all seen the renders and blueprints, we've all heard the rumors. The iPhone 8 has been leaked to death at this point, but despite that we recently got yet another curious leak regarding the new iPhone, and it came from
none other than Apple itself
.
After the company accidentally pushed an early firmware for its upcoming HomePod smart speaker, swarms of developers and enthusiasts took it upon themselves to scour every line of code in the firmware for interesting info and/or clues about upcoming products.
What we got was (seemingly) a confirmation on the iPhone 8 design that we've seen leaked so much recently, as well as info on the phone's face detection capabilities. But that's not all, folks! Curious people over at Reddit have dug up yet another interesting reference in the code, this time around pertaining to the screen size and resolution of the iPhone 8.
The iPhone 8 has been long rumored to sport a 5.8" (not accounting for curved corners) OLED display with a non-standard aspect ratio akin to that of the Galaxy S8 and G6 and dimensions very similar to those of the iPhone 7. However, a few of code found in the HomePod firmware may suggest otherwise.
Although this sets nothing in stone at this point, it is an interesting find nonetheless. The firmware for Apple's upcoming HomePod contains references for a device with a 3x Retina display with a resolution of 1125 x 2436. Nothing surprising here, as KGI analyst Ming-Chi Kuo predicted this would be the resolution of the new iPhone way back in February.
What's interesting, though, is that the line of code also makes a reference to the screen size of the iPhone 8, and it's not what we expected! Instead of the widely-rumored 5.8 inches, the code suggests a substantially larger 6.5-inch display, which would put the iPhone 8 more in line with the iPhone 7 Plus size-wise, instead of the iPhone 7.
And here's the line in question:
Here's a look at iPhone 7 Plus' 5.5-inch 1080p inside of a 6.5-inch 1125 x 2436 display (fig. 1) and the new display overlaid on an iPhone 7 Plus (fig. 2):
At this resolution, a 6.5-inch display would have a pixel density of 412 ppi, which is slightly higher than 7 Plus' 401 ppi, and it will supposedly use 3x visual assets, much like the iPhone 6 and newer models.
Although this information cannot be taken as definitive, it is interesting to speculate nonetheless. Since Apple will most likely be releasing one iPhone 8 model, which size would you prefer? Something more akin to the iPhone 7 (as widely suggested by rumors) or something more closely resembling the iPhone 7 Plus? Tell us in the comments below!
Recommended Stories