iPhone 7 to feature up to 3 GB of RAM, 2.4 GHz A10 processor, water-resistance, new colors
99+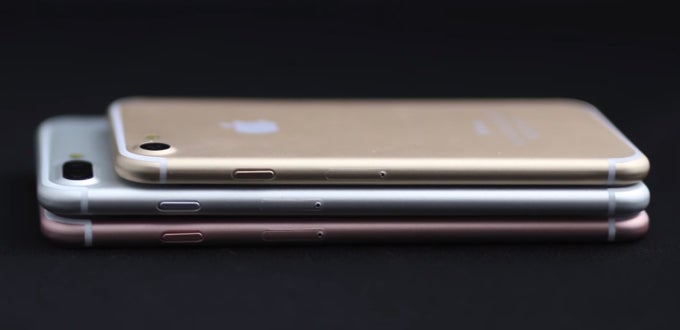 In case you haven't had enough
iPhone 7 rumors
until now, today we have new ones reportedly coming from KGI Securities, a well-known brokerage and investment firm from Taiwan.
9to5Mac cites a KGI report detailing many of the features that the iPhone 7 and iPhone 7 Plus are expected to have - most of them don't contradict what we previously heard about the new devices.
According to KGI, the
Apple A10
chipset of the iPhone 7 series includes a CPU clocked at up to 2.4 GHz, which should be significantly faster than the 1.8 GHz A9 powering the iPhone 6s family, and also faster than the 2.26 GH A9x found inside the iPad Pro line.
The iPhone 7 and iPhone 7 Plus will have three storage space options: 32 GB, 128 GB, and 256 GB, coming in no less than five color variants. In addition to Silver, Gold, and Rose Gold (which we can already see on the iPhone 6s series), the iPhone 7 and iPhone 7 Plus should have Dark Black and
Piano Black
versions. For the beginning, Piano Black may be exclusive to iPhone 7 models with high storage capacities. As for the Space Gray color that Apple is currently selling, it looks like this will be discontinued.
It's
Apple still believes in 2 GB of RAM
said that only the iPhone 7 Plus will feature 3 GB of RAM, while the smaller iPhone 7 should have the same amount of RAM that the iPhone 6s models are offering: 2 GB. Presumably, the extra gig of RAM is needed on the iPhone 7 Plus because this has a dual 12 MP rear camera (while the iPhone 7 comes with a regular 12 MP rear camera). The dual shooter of the iPhone 7 Plus should offer optical zoom, optical image stabilization, and some mysterious "light field camera apps." Interestingly, both the iPhone 7 and iPhone 7 Plus are expected to include four LED flashes for improved low light photography.
The screens of the iPhone 7 and 7 Plus will likely have the same sizes and pixel resolutions as those of the iPhone 6s and 6s Plus, though they should borrow the visual features of the
iPad Pro 9.7
's screen, thus being able to display a wider color range.
Apple is allegedly upgrading the proximity sensor on its upcoming iPhones. Besides featuring longer recognition distance and speedier response times, the new proximity sensor may also provide support for hand-waving gestures. Moreover, the iPhone 7 should have a brand new sensor to improve Apple's Force Touch recognition system.
Finally, the iPhone 7 family is expected to be water-resistant thanks to IPx7 certification (similar to the Apple Watch). Therefore, the handsets should be able to easily survive for up to 30 minutes under water (up to 1 meter, or about 3.2 feet).
Since the iPhone 7 and iPhone 7 Plus do not have standard 3.5mm headset jacks, Apple will bundle Lighting EarPods and Lighting-to-3.5mm adapters with every new phone.
Apple is getting ready to officially
announce the iPhone 7 and iPhone 7 Plus next week
, on
September 7
. Are you excited about what the new handsets will seemingly offer?