iPhone 7 owners reportedly hit with 'No Service' outages after switching off Airplane Mode
76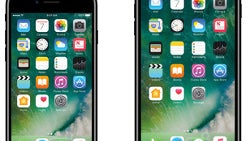 Oh, the joys of being an early adopter. While it's always great to be among the first to try out a new piece of tech like the
iPhone 7
, you essentially assume the role of guinea pig in helping Apple to iron out those initial seams. With a few reports of the Cupertino's new handset letting out
a bit more noise than some had expected
, others have found the effects of Airplane Mode to be a little more
permanent
than they'd hoped.
After toggling off the Airplane Mode, which shuts down all forms of connectivity when activated, some users have been unable to resume their cellular usage. Instead, users are being met with the dreaded 'No Service'. According to
MacRumors
, quite a few users have been affected, and Apple is said to be aware of the issue.
The recommended step, for now, is the old faithful tech tip: turn off the device and turn it back on again. If that doesn't quite produce the desired result, Apple recommends users re-insert the SIM card and try once more.
The video below shows how an
iPhone 6s
can swiftly reconnect to cellular post-Airplane mode compared to the iPhone 7. The 6s, on the left, hooks up to AT&T's towers within a couple of seconds where the iPhone 7 — after almost a minute of searching — retires to No Service:
The owner of the device, Yasser El-Haggan, also noted that after trying to connect, the iPhone 7
"got pretty warm in the top right hand corner."
He took the device to the Apple Store and was given a replacement.
It's unknown whether this is a software issue or hardware. Interestingly, AT&T and T-Mobile-branded iPhone 7 and 7 Plus models include
an Intel 4G LTE modem chip
, where Apple has previously stuck with Qualcomm's cellular radios. Whether this has anything to do with the issue remains to be seen, but hopefully, it's a minor problem that Apple can clear up with a near-future software update.
Has your new iPhone been affected by this No Service bug? Let us know in the comments.