iPhone 6s vs Galaxy S6: Video stabilization comparison
41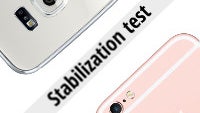 Apple never stopped improving and polishing the cameras on its iPhones, but it took it a while to move from an 8-megapixel sensor (starting with the iPhone 4S) to a 12-megapixel one with the iPhone 6s. But since the resolving power of previous iPhones never really bothered us, come announcement, we were more interested in another possible (and sometimes rumored) improvement: optical stabilization.
Unfortunately, Apple didn't deviate from the blueprint it laid out with the iPhone 6 and 6 Plus, and so only the iPhone 6s Plus phablet received the stabilizing gizmo. Like its predecessor, the iPhone 6s is left to cope with a software solution, which is actually pretty darn good. So good, in fact, that we thought we'd pit the new iPhone against the Galaxy S6.
On paper, Samsung's flagship is better prepared for a stabilization test, for it checks both boxes: it has its own set of software algorithms to help stabilize video, but also a physical image stabilizer integrated with the lens. So when you move about, the lens of the camera follows your lead, too. Does that mean steadier footage, however?
The answer is yes and no at the same time. If it's a real shaky situation you got yourself into, you can count on the Galaxy S6 to better adapt and offer slightly smoother footage than the iPhone 6s, which uses buffer pixels to cut out portions of the raw footage it takes to deliver a better video. But if we're talking an everyday, typical clip, the iPhone 6s manages to keep the image more stable, whilst the S6's is wobbly and jerky. Indeed, the thing we don't quite dig about the Galaxy S6's footage is the jelly-like effect it adds when the lens moves to compensate for shake.
Here's the actual comparison so you can judge for yourself: