iPhone 6s breaks battery efficiency records, manages excellent score
99+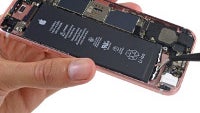 When we discovered
that the
iPhone 6s
packs a slightly smaller cell — a 1,715 mAh unit — than its predecessor, we weren't sure what to think. The drop of 95 mAh in capacity isn't big, and Apple cited identical battery endurance figures during its presentation. Naturally, then, we were interested in putting the device through our proprietary battery life benchmark and see what happens. We did, and the results are incredible: the iPhone 6s' comparatively tiny juicer packs a mean punch.
We clocked the iPhone 6s at 8 hours and 15 minutes, which is an impressive showing considering the size of the battery, and excellent even if you disregard capacity. In fact, the iPhone 6s actually
broke the record for most efficient running
, dethroning the Sony Xperia Z3 Compact, which offers amazing battery life relative to the size of the cell within it. And not by little, too: If we assume uniform performance, the Sony Xperia Z3 Compact would have clocked about 13 hours and 30 minutes did it have a 3,500 mAh battery, while the iPhone 6s would push that to 16 hours and 50 minutes — a significant improvement.
Compared to the actual results posted by other, similarly sized devices, including the Sony Xperia Z3 Compact, the iPhone 6s does very well. It trails Sony's golden boys, but leads over Samsung's Galaxy S6 and HTC's One M9. Obviously, you have to account for the 6s' lower resolution, which doesn't impose as high a toll on the cell, but that's that. See for yourself:
When it comes to charging times, however, the iPhone 6s posts rather disappointing results, with 150 minutes required to top off the battery. That's significantly worse compared with devices such as the Galaxy S6, which also has a much larger cell, but not quite as tragic as others.