Power efficiency: These are the most frugal smartphones currently on the market
42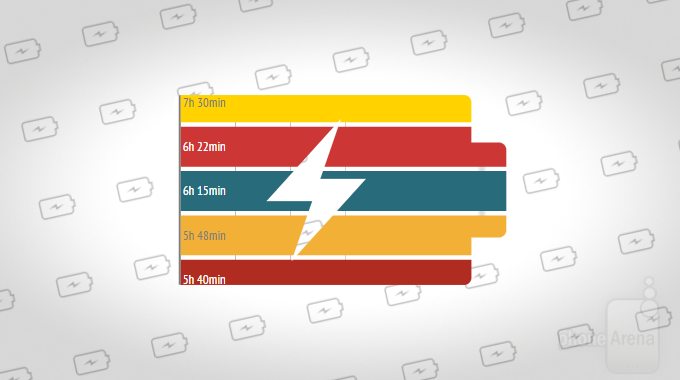 Sony's Xperia Z3 Compact is the most power-efficient smartphone we've measured
With most smartphones now offering all-around performance above the sanitary minimum, it's only natural that the next enemy to be conquered is battery life. And indeed, our data indicates that more and more of you ask questions relating to the battery of their next purchase before committing. Naturally, our battery benchmark's popularity is at an all-time high.
There are a lot of factors affecting the battery life of every smartphone that goes through our custom test, however, including the underlying technology of the display, the number of pixels on it, its size, along with the processor powering the device, the software, and so on and so forth. Yet, the general populace seems to consider a larger battery as necessarily superior to a smaller one, and that's just a wrong way to think about the problem. Instead, the argument should be centered on power efficiency, not just size, as we've already seen some devices offer some truly mind-blowing endurance, even though their battery has an average capacity (Sony Xperia Z3 Compact, #high-five). Of course, all things being equal, more is always going to mean longer battery life.
We think a lot about this type of stuff, and lately we've been asking a lot of "What if..." questions. Some of you will, naturally, disregard them as pointless, yet thought experiments such as that have their utility. For example, what if the battery in your smartphone was as big as the battery in every other smartphone? Would it perform better or worse than this or that device? Questions of efficiency, in other words. Meaningful questions.
So we sat down and did some elementary calculations using the scores popular flagship devices achieved in our custom battery life benchmark. Using them, we were able to derive a figure that tells us how many seconds of battery life every 1 mAh gives us. From there, it's only a matter of time to work out scenarios with differing capacities — in our case we chose 3,500 mAh and 1,810 mAh. Why these two values? They're two extremes — especially the latter, which is not at all coincidentally the cell capacity of the iPhone 6. Yep, the iPhone 6 does rather poorly in our battery life benchmark, but our data shows that the iDevice is one of the more efficient on the market. Of course, as you can see for yourself, it is outdone by a number of Android devices.
What if flagship phones had a 3,500 mAh OR 1,810 mAh battery?
Device
Display size
Resolution
Battery capacity
ACTUAL battery life
With a 3,500 mAh cell
With 1,810 mAh cell
Sony Xperia Z3 Compact
4.7"
720p
2,600
10 h 2 min
13 h 29 min
6 h 58 min
Samsung Galaxy S6 Active
5.1"
1440p
3,500
12 h 9 min
12 h 9 min
6 h 16 min
Samsung Galaxy S6 edge+
5.7"
1440p
3,000
9 h 29 min
11 h 15 min
5 h 42 min
Samsung Galaxy S6 edge
5.1"
1440p
2,600
8 h 11 min
10 h 58 min
5h 40 min
Sony Xperia Z3
5.2"
1080p
3,100
9 h 29 min
10 h 41 min
5 h 31 min
Samsung Galaxy Note5
5.7"
1440p
3,000
9 h 11 min
10 h 41 min
5 h 31 min
Apple iPhone 6
4.7"
750p
1,810
5 h 22 min
10 h 20 min
5 h 20 min
Samsung Galaxy S6
5.1"
1440p
2,550
7 h 14 min
9 h 55 min
5 h 8 min
Xiaomi Mi 4
5"
1080p
3,080
8 h 32 min
9h 41 min
5 hours
Motorola DROID Turbo
5.2"
1440p
3,900
10 h 42 min
9 h 34 min
4 h 57 min
Samsung Galaxy Note 4
5.7"
1440p
3,220
8 h 43 min
9 h 27 min
4 h 53 min
Huawei P8
5.2"
1080p
2,680
7 h 12 min
9h 23 min
4 h 51 min
Sony Xperia Z3+
5.2"
1080p
2,930
7 h 15 min
8h 38 min
4 h 28 min
Google Nexus 6
6"
1440p
3,200
7h 53 min
8 h 31 min
4 h 24 min
Samsung Galaxy Note Edge
5.6"
1440p
3,000
7 h 8 min
8 h 17 min
4 h 17 min
HTC One M9
5"
1080p
2,840
6 h 25 min
7 h 53 min
4 h 4 min
Apple iPhone 6 Plus
5.5"
1080p
2,915
6 h 32 min
7 h 49 min
4 h 3 min
Meizu MX5
5.5"
1080p
3,150
7 h 5 min
7 h 49 min
4 h 3 min
LG G4
5.5"
1400p
3,000
6 h 6 min
7 h 7 min
3 h 41 min
Nokia Lumia Icon
5"
1080p
2,420
4 h 50 min
6 h 56 min
3 h 35 min
ZTE Nubia Z9
5.2"
1080p
2,900
5 h 14 min
6 h 18 min
3 h 15 min
Again, as mentioned, a number of factors combine for the flagships above to produce these scores, including the size of the display and resolution (all things being equal, a bigger display/higher resolution will always mean the device is worse off in terms of battery life), processors, and software platforms. Still, we analyzed our data set further, and the reality is that there's a rather weak correlation between screen size/resolution and the score these devices achieved, which explains why some of the most power-efficient devices are true phablets with Quad HD (1440 x 2560) pixel resolutions.
In any case, the results speak for themselves: Sony's mini-flagship, the Xperia Z3 Compact, is the most power-efficient high-end device on the planet right now, followed by the excellent Samsung Galaxy S6 Active and the brand-new Galaxy S6 edge+. At the other end of the spectrum, we've got the ZTE Nubia Z9, which thoroughly disappoints in terms of resilience, along with the Nokia Lumia Icon and LG G4. Lastly, it should be noted that, with Apple's iPhones, resolution seems to play a significant part in their efficiency, with the 750p iPhone 6 posting a decidedly better result than the 1080p iPhone 6 Plus.
Discuss!