iPhone 6 beats the HTC One (M8) in our speed comparison
58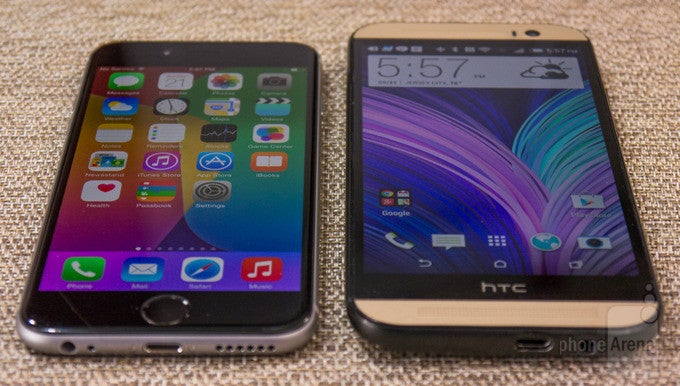 Prone to bending or not, the
iPhone 6
remains one of the best phones money can buy. Millions love it for the stylish design, the great camera, and the generous selection of awesome apps and games, among other stand-out features. It is a pretty snappy smartphone, too, with performance ranking it among the fastest, most reliable phones in our book. The latter is a bold, statement, we know, but we actually have proof to back our words with. Several weeks ago, we did a
speed comparison between the iPhone 6 and the Samsung Galaxy S5
– a comparison meant to show which of the two phones was faster and more responsive in real life, not on paper. At the end, Apple's smartphone wasn't leading by much, but it won the challenge nonetheless. Now, we'll be stacking up the iPhone 6 against another fine Android specimen with plenty of potential, namely the
HTC One (M8)
. How will it fare this time?
The Setup
To find out which phone is faster, the iPhone 6 or the HTC One (M8), we picked a total of 16 pairs of apps – 6 stock and 10 third-party ones. These included the phones' contacts, web browsers, and photo gallery apps, as well as the respective platforms' Facebook, Twitter, and Spotify clients, among other frequently used applications. Then we measured the start-up times for each app pair and gave a point to the phone that loaded it faster.
Of course, we did our best to keep the testing conditions as equal as possible for the two handsets. The iPhone 6 and HTC One (M8) were both connected to the same Wi-Fi network and provided with speedy access to the internet. Also, they were configured to use the same accounts for email, contacts and other services, they had the same music and an identical amount of photos loaded on them, and they were loading the same web page during the browser tests. Prior to the start of our testing, we gave both phones a reboot.
The results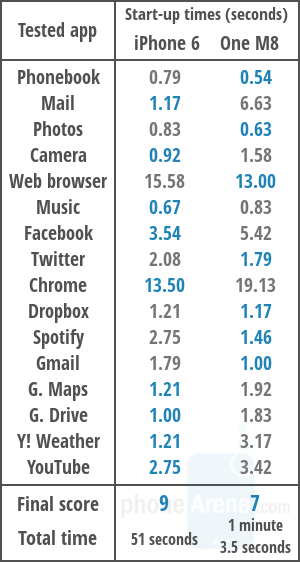 To be fair, the HTC One (M8) stood its ground really well against the iPhone 6. We began our experiment by testing how well the phones handled their stock apps, and the score was a tie after we ran the six apps that we had chosen. Apple's smartphone handled its camera, music player, and email client better, while the One (M8) excelled at launching its contacts list and gallery, as well as at loading our home page in its web browser.
The iPhone 6, however, took the lead when we moved onto third-party apps. It was faster at loading our Facebook feed and at displaying our home page in Chrome. It also handled Google's own services better, including Google Drive, Google Maps, and YouTube. The HTC One (M8), on the other hand, was more responsive with Gmail, Twitter, Dropbox, and Spotify. Yet this wasn't enough for it to outpace the iPhone 6.
Once all testing was through, the score stood at 9 to 7 in favor of the iPhone. The HTC One (M8) needed a total of 1 minute and 3.5 seconds to load all apps, while the iPhone 6 completed the same obstacle course in only 51 seconds. Does this mean that the HTC One (M8) is a slow smartphone? Of course not. In fact, it is one of the snappier Android handsets around. Compared to the iPhone 6, however, HTC's flagship is a step behind in terms of real-world speed and responsiveness.