iPhone 6 vs Samsung Galaxy S5 speed comparison: which is faster?
99+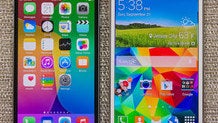 Did you know that smartphones today have
more computing power
than the supercomputers used by NASA to send men on the moon? Yup, our lovely handheld gadgets can crunch some serious numbers. Having plenty of raw processing power, however, does not always translate into a speedy smartphone experience. You see, the real-life performance of a modern phone is usually determined by how smoothly software and hardware work together.
Take Apple and its iPhone for example – the company has total control over the software and hardware that go inside its smartphone, and both are built from the ground up to work in perfect unison. The result is a stellar smartphone experience that does not rely on octa-core processors and bajillion gigabytes of RAM. That is not to say that a potent hardware configuration isn't a plus, especially when it comes to Android smartphones. In fact, all of the best Android handsets rely on the most capable system-on-chip solutions that are available. For example, one of the most popular Android devices at the moment, the Samsung Galaxy S5, is powered by one of Qualcomm's fastest chips, the 2.5GHz, quad-core Snapdragon 801.
But ultimately, which is the better solution? And which is faster – the iPhone 6 or the Galaxy S5? To answer these questions, we attempted a comparison the kind of which we don't do often... yet. Below is a speed comparison between the iPhone 6 and the Samsung Galaxy S5 – a comparison aimed at determining which phone is faster in real life. Long story short, both phones stood their ground really well. The iPhone 6 had the upper hand when dealing with the basics and handling the phone's core applications. Yet the Galaxy S5 managed to stand out in other fields of testing. Check out the video below to see how our speed comparison between the two phones turned out.