iPhone 6 Plus vs Samsung Galaxy Note 4 vs DSLR blind camera comparison: you choose the best camera
99+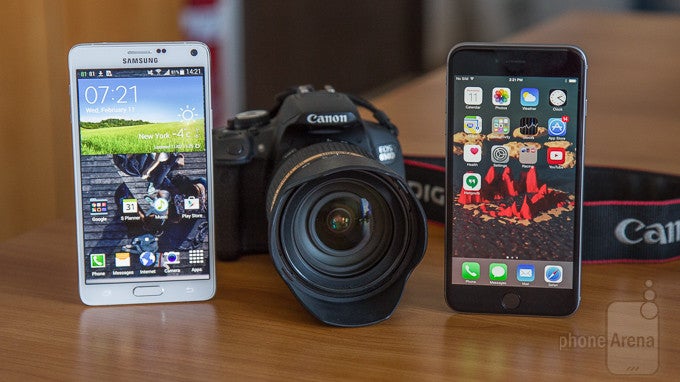 Voting is now closed, and the results are below.
Basic point-and-shoot cameras are on their way to extinction, and there's no denying that smartphones should take the blame. Smartphone cameras are easy to use, capable of producing great images, and most importantly, they're always available when we need them. But can a smartphone take photos as well as a proper DSLR camera? That's what we're here to find out.
For our latest blind camera comparison, we've gathered two of the top cameraphones out there, namely the
iPhone 6 Plus
and the
Samsung Galaxy Note 4
. They'll be racing against a Canon EOS 650D, which is an entry-level DSLR with an 18-megapixel CMOS sensor measuring 22.3 by 14.9 millimeters. As for the samples you're about to see below, they've been taken using the phones' automatic settings. The DSLR camera was in its fully automatic mode, shooting RAW images which we then converted into JPEG with as little post-processing as possible.
As usual, all high-resolution images have been downscaled and cropped to an identical size – this makes it impossible to guess a device by the size of its photo. Also, note that the order of the images within scenes is totally random. In other words, the first device in scene 1 may have not ended up in first position in the next scene – another way of spicing things up a bit.
Now feel free to take a good look at all images and cast your votes below! The winning device will be announced in a few days.
Scene 1
Those of you who have kids surely know what it is to have stuffed animals, toy trucks, and building blocks scattered all over the house. Anyway, here's a shot demonstrating how the three cameras capture colorful scenes – whether they boost saturation or keep its level rather neutral. Daylight was coming through the windows behind the photographer.

Side-by-side preview
Scene 2
The cloudy weather wasn't helping us much when taking this image, but nevertheless, we managed to get a nice shot from all three cameras. The university's façade is nicely decorated, which lets us explore how well the three cameras deal with fine details. (And yes, that's a statue of a nude lady up there.)

Side-by-side preview
Scene 3
And here's a close-up of... we aren't sure what these are, but we don't think they're safe to eat. Anyway, this scene demonstrates the depth of field effect created by cameras. Intricate details are also present. The photo was taken on an overcast afternoon, hence the lack of color vividness and vibrancy in the images.

Side-by-side preview
Scene 4
Several minutes later, we captured this image in the park. The sun's rays were still barely piercing the dense layer of clouds in the sky.

Side-by-side preview
Scene 5
Later that afternoon, we came across this scene and thought we'd take a shot. It turns out that the image is great for judging how well details are preserved by each camera. (In case you're wondering, these are the remains of an ancient public baths complex, built by the Roman empire.)

Side-by-side preview
Scene 6
And lastly, here's a night photo – the kind of scene that's a challenge for any camera. No flash was used, and we relied solely on the cameras' software to pick the right settings. The Note 4 automatically detected a night scene, while the camera's flash was manually disabled.

Side-by-side preview