iPhone 6 Plus reportedly explodes while in student's pocket
94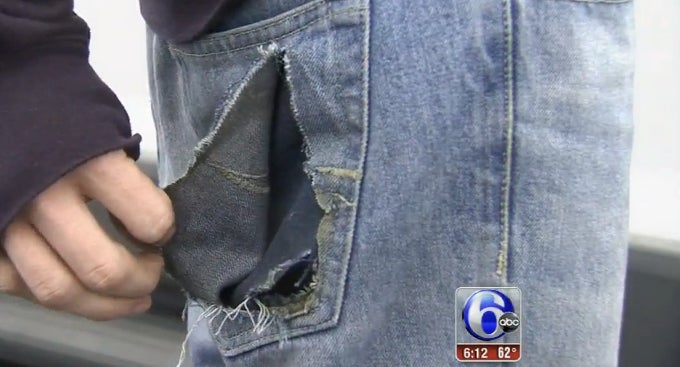 Fans of expensive smartphones may be familiar with the burning-hole-in-pocket metaphor
As you would imagine of a smartphone in one's pocket, it wasn't on charge. In the case of Note 7 devices going up in flames, the catalyst for exposing faulty batteries has been the connection of a charger. In this instance, Darin Hlavaty's iPhone 6 Plus was untethered in his jean pocket and shortly after he sat down for class, the device started to emit smoke.
Fellow student Rebecca Bookbinder said of the incident:
Out of nowhere, we heard a fizzing and a popping sound. Suddenly a great mass of smoke comes out from [Hlavaty's] pocket. . . Everyone was kind of like, 'What is that? What is that?' And then we all realized that's his phone that combusted in the middle of class.
Hlavaty said that as he pulled the device from his pocket it felt "super hot" which caused him to throw it to the ground. He also described how he had to kick the device, which he'd owned for about six months, "because it was on fire."
The device apparently had a crack in it, which may or may not have been partially culpable. A damaged device in a back pocket seems like a potential recipe for disaster, particularly if one is to, say, sit down (on the phone) for class. As we've seen in the past, lithium batteries
will explode under certain stresses
and conditions regardless of how well or badly a device is made. Perhaps the blame is, like with the Note 7, on the shoulders of its maker -- in this case, Apple. In absence of specific details re the device's prior damage, it's difficult know exactly how this iPhone 6 Plus came to be a crumpled slab of metal.
This isn't the first time that the iPhone 6 Plus has caught the headlines for the wrong reasons. Upon its release in 2014, it was subject to the
Bendgate saga
, in which some customers complained that the device would become misshapen with ease.
While Apple downplayed the issue
, it did make some minor design adjustments with the subsequent iPhone 6s series.
Hlavaty's device is el finito, while his jeans now sport a rather large hole. According to the
6ABC
news report, Apple has declined to comment on this case, but will investigate since
"customer safety is of the utmost importance."