iPhone 5s now shipping in 2 to 3 weeks, could it affect iPads as well?
23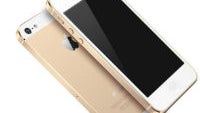 We knew from before the iPhone announcement that Apple was having trouble with iPhone 5s supplies, and we saw the proof just two days after the release when shipping times pushed out to "October". Word had it that the fingerprint scanner was causing production delays, which could be the cause of the problems. According to the Apple website, shipping times on the iPhone 5s have risen up to 2 to 3 weeks.
There is still time for Apple to get production on track before the holiday shopping season starts, but this could also affect the release of the upcoming next generation iPads. While there hasn't been any smoking gun proof that Apple is planning to have the fingerprint scanner on the new iPads, but there have been leaked shots of the alleged
iPad mini 2
with a fingerprint scanner, as well as evidence that the fingerprint scanner fits "
perfectly
" into the iPad 5 case.
Of course, this would be on top of the rumored production problems with the iPad mini 2 and its Retina display. Word has it that iPad mini 2 production could be so low as to force Apple to delay the release of the tablet until after the new year. So, Apple probably can't afford any more delays, and that alone could keep the fingerprint scanner off the new iPads.