iPhone 5C pops in a video, showcases browsing and looks suspiciously real
46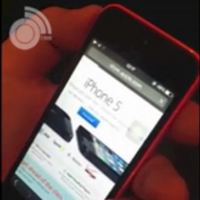 After a barrage of images of thedifferent components of the iPhone 5C popping all over the web (andangering a fair amount of Android die-hards), today we're tentativelymarking the end to that whole fiasco, for we finally have a look at apowered, seemingly fully-functioning iPhone 5C. Showcased whilebrowsing in iOS 7, the alleged iPhone 5C in red appears snappy andreal, though we can't know for sure whether a rather eloquent hoaxisn't at play here. Considering that all signs point towards aSeptember 10 announcement and a prompt release afterwards (as is theApple tradition), though, it seems logical that the first batch ofthe budget device has already started shipping, so we feel a smidgemore confident that we aren't being taken advantage of.
In case you missed out, a purported specs sheet has leaked just days ago, signaling thatthe iPhone 5C will be close to identical to the iPhone 5 as far asthe hardware goes. Even Siri, Apple's virtual assistant, which waspreviously rumored to be altogether missing on the budget phone hasbeen forced back into the daily agenda.
How budget is the iPhone 5C going tobe, though? Not so much, from what we know so far – a contract freeprice of about $400 to $500, or $99 on contract – a price point toremind us that Apple's and ours understanding of "budget" doesn'tnecessarily mean the same thing. Regardless, seeing as the iPhone 5Cis, reportedly, targeted at emerging and developing markets, wearen't so sure it'll manage to carry out the task it was designed to, namely: lay siege to the budget segment.
After you take a peek, make sure youcheckout our round-up on the iPhone 5C.
source: C Tech