iPhone 5 shipping times normalizing - just "two weeks" now
35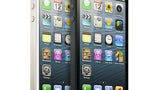 Either Apple's suppliers are getting better, or demand for the
iPhone 5
is slowly dropping, but the fact is that users who order Apple's latest and greatest invention from its online store now, will have to wait "just" two weeks before it hits their door mat.
This new change in shipping times comes after the rather lax timing of 'two to three weeks' set earlier in November, which itself came after the patience-testing 'three to four weeks'. The most common theory for these supply-oriented issues is how difficult the handset is to be produced. According to a Foxconn (major iPhone supplier) official, achieving such a thin and light construction at such high quality level has proven to be extremely complicated, but thankfully, Foxconn workers are now said to be getting the hang of it, thus making it possible for Apple to deliver your shiny new iPhone 5 in the record-setting time of two weeks.
Are there any PhoneArena readers currently waiting for their iPhone 5 to arrive?
via:
Cnet