iPhone 5 monthly plan comparison: T-Mobile vs AT&T, Verizon, and Sprint
89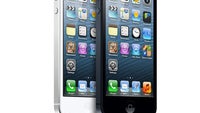 So, you're planning on getting a T-Mobile
iPhone 5
, eh? Good choice! That's not only because the iPhone is among the best smartphones out there, but also because you'll be able to pair it with a very affordable monthly service plan – unlimited minutes, text messages and data for $70 per month is quite a deal, no matter how we slice and dice it. How does that stack up to the competition's offerings? Well, that's what we're about to find out!
First and foremost, T-Mobile now has the cheapest unlimited data plan among the nation's four major wireless carriers and there's zero doubt about it. In comparison, a similar unlimited plan from AT&T, Verizon, or Sprint would cost you roughly $40 extra each month (or nearly $1000 over the course of 2 years). That's why as a result, owning a T-Mobile iPhone 5 will be easier on your budget than picking one from a different major carrier, especially in the long run. Sure, AT&T, Verizon, and Sprint
do
subsidize the iPhone's price, thus bringing its cost down to $199, while T-Mobile will be asking $580 for a base model, either paid in monthly installments or outright, but even with that cost difference thrown into the equation, the figures are still in favor of T-Mobile.
But as the saying goes, you get what you pay for. While T-Mobile has the best rates, we can't quite say the same about its network coverage, which gets spotty outside of metro areas. That's not a problem for users that rarely need to travel outside of a major city, but others might find it very inconvenient. Thankfully, that's likely to change in the near future as the carrier expands its network and continues its LTE rollout. Speaking of LTE, at first you won't be getting such service from T-Mobile on your iPhone unless you live in
one of the few markets where it's available.
AT&T, Verizon, and Sprint, on the other hand, have long deployed LTE towers in a great number of cities and already cover a considerable fraction of the population.
Yet overall, buying an iPhone 5 from T-Mobile and pairing it with an unlimited plan seems like a good deal, especially since you aren't required to sign a long-term contract. In case you're tempted as well, mark April 12 in your calendar as that's when the smartphone will land on the carrier's shelves. For more details as to how T-Mobile's unlimited plan compares to what the competition has to offer, we've put together a detailed comparison below!

*As of March 27, 2013. For AT&T and T-Mobile, "4G network" includes HSPA+ and LTE.