iPhone 5 deemed 'slowest smartphone' in Geekbench comparison, but results might not be comparable
99+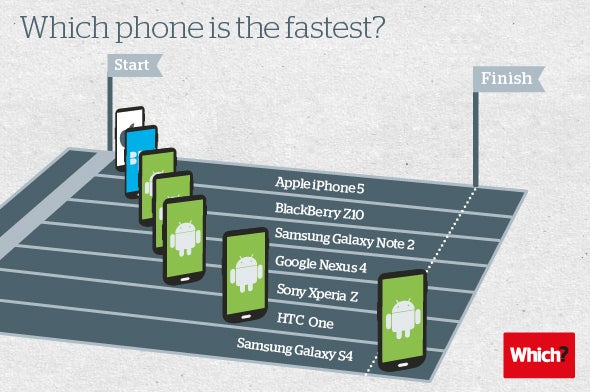 The
Apple iPhone 5
, the fastest selling smartphone on the planet, is now deemed to be the slowest one in a comparison with top-tier Android handsets. British publication Which? UK ran the processor and memory-intensive Geekbench test on the Apple iPhone 5, Samsung Galaxy S4, HTC One and other flagship devices.
The score that supposedly shows which of the devices perfomrs the fastest, revealed a unanimous win for the Samsung Galaxy S4. What's more interesting, though, is that the Apple iPhone 5 actually scored last, dropping even below the BlackBerry Z10.
Should we trust those results? Truth is, the Apple iPhone 5 is the oldest of the bunch having launched in September 2012. Also, the test does not touch on graphical performance, an area of particular interest and strength in Apple devices and the iPhone 5 in particular.
Yet the difference is astounding. The Galaxy S4 scored nearly double the iPhone 5. We strongly advise you against taking those results at their face value. The Geekbench score gives a great base for comparing Android devices against each other. You could also have a valid comparison when you run the test to compare iDevices against each other. However using the Geekbench score to compare different platforms seems to yield weird results.
For that reason, we recommend a critical approach to that score. We have reached out to Geekbench for an official comment and will update you with their technical explanation as soon as we have it.
Update:
We have received a response from PrimateLabs, the Geekbench app developers, and they shed all doubt confirming that the results are perfectly comparable. Here is their official response:
Geekbench runs the same workloads on Android, BlackBerry, and iOS, so the scores are comparable across both platforms.The unexpected difference comes from the fact that most of the devices on the list are quad-core devices, while both the iPhone 5 and the Z10 are dual-core devices. Geekbench is multi-core aware, so in general quad-core devices will score higher than dual-core devices.
Right below, are the Geekbench scores of the devices Which? UK tested for processor and memory performance:
Samsung Galaxy S4 – 3188
HTC One – 2798
Sony Xperia Z – 2173
Google Nexus 4 – 2134
Samsung Galaxy Note 2 – 1950
BlackBerry Z10 – 1698
Apple iPhone 5 16GB – 1664
source:
Which? UK