iPhone 5 Lightning to 30-pin adaptor won't work with some existing accessories (false alarm)
24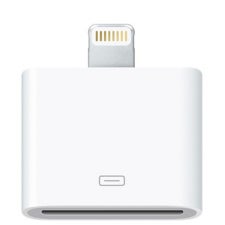 The
Apple iPhone 5
is coming with a brand new 8-pin Lightning connector that is not compatible with the current 30-pin connector used on the iPhone and iPad all until now. Apple told us not to worry too much as it has the adaptor so you'd still be able to use your accessories, but not all of them.
And that's worth stressing - the adaptor doesn't transport analog signal so accessories requiring that analog signal won't work. Now, it turns out that most audio devices require exactly that, the analog output, and that's why it's possible that if you want to use your audio equipment with the new iPhone 5 and the adaptor you might not be able to.
The best thing to do would be to just try it if possible or check with the manufacturer of your accessories whether those particular gadgets will work with the adaptor.
source:
What Hi-Fi
UPDATE:
False alarm, folks. It looks like the adapter supports analog audio out and USB audio. What it really does not support is a feature called "iPod Out", which is used to connect the iPhone to a car's multimedia system via USB.
source:
TUAW