iPhone 4S and 4 doing very well, iPhone 5 could be better
35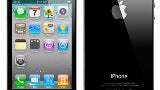 Ah, the good old times when the iPhone 4S was all the rage... Things were so much simpler for Apple back then - you could make a whole iPhone almost entirely out of glass, the stock was high, and there were only four rows of icons, none of that fancy five row stuff.
Anyways, those times are gone and now the iPhone 5 is Apple's current flagship smartphone. While it's a pretty cool smartphone, though, it doesn't seem to be so appealing for consumers, especially when the iPhone 4S and iPhone 4 are available at more affordable prices. The iPhone 4S, for example, costs just $99 on contract, while the identically-looking, but slower iPhone 4, can be had for free on contract, which is not a bad offer at all.
A study by Consumer Intelligence Research Partners estimates that just 53% of all iPhones sold during Apple's fiscal Q2 2013 were iPhone 5 devices. We say "just," because apparently the iPhone 4S sales represented the much better 73% of all iPhone sales back when the 4S was the current model. What this means is that Apple's average selling price is lower these days, as it isn't selling as much of its most expensive smartphone.
Still we have to acknowledge the fact that this study was made using data from just 500 customers, which is not that bad of a sample, but leaves a bit of room for doubt.
There might be many reasons for the weaker demand for Apple's latest model. One possible explanation could be that it doesn't introduce anything that groundbreaking over its predecessor, though the bigger screen does seem to be a worthy investment. What we're more interested in is the company's upcoming iPhone (or iPhones), not only because of the expected hardware enhancements, but mostly due to the radical iOS overhaul that we've all been waiting for. Whether that is going to happen, though, remains to be seen.
via:
Gigaom