iPhone 4 sales hit a million units over the first weekend
31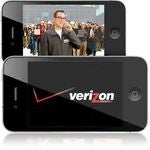 Well, maybe we didn't see crowds of people in front of
Verizon
stores on the day when Apple's
iPhone 4
made its debut for the carrier. So on the other hand, how come Verizon stated already that the iPhone 4 has been the company's best-selling device for the past several years?
As it has been reported by Dan Mead, Verizon Wireless chief, preorders of the iPhone 4 account for 60% of the company's total iPhone sales over the first weekend. Analysts from JP Morgan Securities estimate that more than 600 000 units were ordered in advance, so putting the two numbers together results in over a million Verizon iPhones, which found their way to the pockets of their happy owners over the very first weekend of its release. We can only guess how many more have been purchased nationwide since then.
Verizon vows to remain silent on exact sales figures until April, when its first-quarter earnings are to be announced. Back when the iPhone 4 was launched for AT&T however, Apple sold over 1.7 million units over the first weekend alone. It has been suggested, that customers may be simply waiting for the iPhone 5 to come out later this summer while hoping to get 4G data speeds along with it, even though LTE for the iPhone is rumored to be delayed until 2012.
source:
TheStreet
via
SlashGear