iPhone 11 vs iPhone XR: should you upgrade? Which one to buy?
23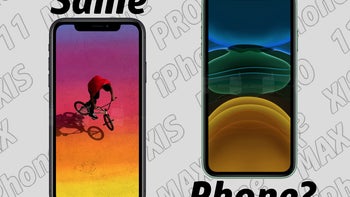 Well, iPhone Day 2019 is well behind us and we are still processing all of the cool announcements. From the very reasonably priced Apple Arcade and Apple TV+ to the $699 on the iPhone 11's tag — great job, Apple! It's an aggressive, saturated market out there and Cupertino definitely made the right calls in order to not estrange its fans.
But the
iPhone 11
is not just about the price — it comes with some upgrades. Camera, processor, the likes. Is it worth to ditch your
iPhone XR
in order to get this model? Let's ponder this a while:
Design and display
Apple loves to stick by its designs for years on end and it's no surprise that the iPhone 11 reiterates the design of the iPhone XR, which itself was mostly based on the
iPhone X
design. In other words, you won't be upgrading for the looks of the handset. Yeah, the iPhone 11 does come in a bunch of new colors, but that doesn't mean that the iPhone XR's vibrant paintjobs are now obsolete, right? Right?
And what about the display? Nope, nothing new here. Same old LCD panel, 324 pixel-per-inch density, same bezels, same notch on top. Of course, that's not really bad — Apple's LCD panels are great in terms of color, detail, and luminosity.
Hardware and camera
Yeah, it's a new iPhone, it's "the fastest iPhone ever", it has a new chip. Snide sarcasm aside, the Apple A13 Bionic is yet another impressive SoC that's going to put the competition to shame. But last year's A12 Bionic is still a very, very powerful processor. In other words — the iPhone 11 is super-powerful… the iPhone XR is still nothing to snark at.
Still, the iPhone 11 has some nice touches here and there. Like the new U1 chip — it's an "extra sense" for your iPhone, which allows it to do more with wireless signals around you. Right now, you can use it for AirDrop — if you point your iPhone 11 to a specific friend (who also has a U1-equipped phone), your AirDrop menu will put them on top, making sharing even easier than before. This is just the beginning, Apple says, and we are curious what else the U1 can be used for.
The camera department is where the huge updates are. The iPhone 11 now has two lenses on the back — a regular wide-angle and an ultra-wide-angle. Yep, keeping up with the trends, Apple also has that 120-degree, action-cam-like lens on the back, which allows you to capture more stuff in both photo and video. It also has improvements behind the scenes with the image processor now juggling even more frames as you take a single photo, stitching them all together for those "computational photography" results.
We also — finally — get a "Night Mode". When it's dark out and the iPhone 11 detects that there's not enough light to grab a nice photo, it will automatically engage Night Mode. It looks like it works just like the implementations of Google and Samsung. We will surely test that. The demonstration did not state whether or not Night Mode will be coming to older generation iPhones and we have a feeling it might not.
In reality, the iPhone XR's camera is still quite good. The 11 is a great improvement, but we are not sure it's so much better that you need to dump your XR right now, here, on the spot.
Other tiny tidbits
Hey Face ID has been improved — Apple says that it's now even better at detecting your face at wider angles. In practice, this should mean that you shouldn't need to lean over your iPhone like you are threatening to smother it in its sleep in order to unlock it. We will see just how wide that angle is when it's time for a review!
What we did find interesting is the new Audio Virtualizer, which Apple talked briefly about. Apparently, the iPhone 11 will be able to push sound out of its stereo speakers in such a manner that it sounds more convincingly big and spatial. Of course, we can't say anything about it before we get our hands on the phone and get to reviewing it.
So yay or nay?
Here's the thing — for anyone that owns an Apple iPhone XR, the iPhone 11 is not really a huge upgrade. In fact, Apple didn't mean it to be. It's supposed to be an upgrade for people who are still hanging on to their
iPhone 8
or even iPhone 7. The them, we say — go ahead!
Now, if you look at the Apple Store page, you will notice that you can have an iPhone XR for $600 and an iPhone 11 for $700. Maybe you are wondering — which one of these to get? In this case, we'd say absolutely go for the iPhone 11. It has a bunch of small and not-so-small improvements sprinkled throughout that make the extra $100 worth it. The new camera, the improved Face ID angle, the supposedly improved stereo speakers, the faster processor… yeah, we would pay an extra $100 for all of that. If you are really, really strapped for cash and can't go a cent beyond $600… save up. Really, there's very little reason to get the XR for $600 with the iPhone 11 so close to that.