iPad Pro teardown shows us what's inside Apple's largest tablet to date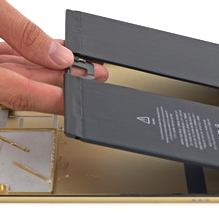 Available to buy
starting today, the
iPad Pro
is not only
Apple's biggest iPad ever
, but also its most expensive tablet to date: prices start at $799 (32 GB, Wi-Fi), and go up to $1,079 (128 GB, Wi-Fi + Cellular). What's more, if you need a full
iPad Pro
experience, with
Apple Pencil
and Smart Keyboard, you have to pay an extra $268.
Before deciding if you want to buy the iPad Pro, you may be curious to know what the tablet looks like when it's disassembled, and how easy it is to repair. Well, iFixit today posted its iPad Pro teardown for everyone to check out.
The nicest thing about the iPad Pro's construction is that the battery (a 10307 mAh one) can be removed rather easy. However, before being able to take out the battery, you'll need to fight with a lot of adhesive that's keeping the massive 12.9-inch display in place, the logic board (which has its own shielding - this, too, needs to be removed separately), four large speakers, camera sensors, connectors, and so on.
All in all, the iPad Pro got a repairability score of 3 out of 10. In other words: it's definitely not a device that's easy to repair (but we hope that not many customers will need theirs to be fixed).
Apple iPad Pro teardown by iFixit
source:
iFixit