iPad 2 delivery times now over a month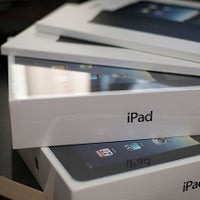 If you've had any doubts about thesuccess of the iPad 2, those should have quickly evaporated asreports confirmed the usual lines and initial analysis claimed nearly 1 million iPads sold duringthe opening weekend. While we wait for the official numbers, we havebeen watching the shipping times grow from a couple of days in thebeginning to between three and four weeks only to reach the current waiting period ofover four weeks. Don't get your hopes high for getting the device inApple's retail locations and partner stores either as it hasreportedly sold out.
"Demand for the next generation iPad2 has been amazing," Apple spokesperson Trudy Muller said in aninterview to Apple-related website The Loop. "We are working hardto get iPad 2 into the hands of every customer who wants one asquickly as possible," Muller added. Did the apparent shortageaffect you? Let us know if you can still find Apple's iPad in retailstores near you.
source: Apple via The Loop